There's an art to walking. It's more than just putting one foot in front of the other. There's a certain grace and elegance to it. And like all forms of art, it can be mastered with practice.
The practice of walking permeates through different spheres of history, philosophy and spirituality. It's a form of art that has been practiced by many famous artists, philosophers, and authors.
As any good flâneur knows, walking is a wonderful way to connect with nature, and there's no better way to experience a city than by exploring it on foot. It allows you take in all the sights and sounds at your own pace.
So next time you're out for a walk, take your time and enjoy the journey. Let your feet carry you where they will, and savor the experience.
Here are some of the best books about walking that help illustrate the importance of this form of art. 
Best Books About Walking
All truly great thoughts are conceived while walking.

Friedrich Nietzsche
Walking — Henry David Thoreau (1861)
Summary: Walking is a short non-fiction book written by Henry David Thoreau that brings you on a journey that makes you feel as you're walking alongside the well-known transcendentalist in nature discussing the joys of walking.
Thoreau discusses how walking can help to connect people with their surroundings, and how it can be used as a way to clear the mind and find peace. He also talks about the spiritual benefits of walking, which include gaining a more intimate knowledge of nature and developing a stronger connection with God or the universe. He believes that walking can help people become more virtuous and self-reliant, and that it can provide them with insights that they would not find elsewhere.
The book stresses the importance of taking time for walks, even if they are only brief ones.
Overall, Walking is a lovely ode to the joys of walking that will make you want to lace up your shoes and stroll in nature.
Memorable Quote: "We should go forth on the shortest walk, perchance, in the spirit of undying adventure, never to return; prepared to send back our embalmed hearts only, as relics to our desolate kingdoms."
GoodReads Score: 3.80/5
In Praise of Walking — Shane O'Mara (2019)
Summary: In Praise of Walking by Shane O'Mara is a scientific defense of the health benefits of walking and offers a different perspective from the other books in this list. O'Mara, a neuroscientist, makes the case that walking is good for the brain, body, and spirit.
Walking is one of the oldest forms of human locomotion and is a low-impact exercise that can be performed anywhere. Walking has many physical and mental health benefits, including reducing the risk of heart disease, stroke, diabetes, and cancer. Walking also improves moods, reduces stress levels, and increases creativity.
As he explains in the book, the brain benefits from regular walks due to increased blood flow and stimulation from new environments. Walking also helps to prevent cognitive decline in old age.
It's a bit more informative than philosophical, and is a great complement to other reading materials on the topic.
Memorable Quote: "Although walking arises from our deep, evolutionary past, it is our future too: for walking will do you all the good that you now know it does."
GoodReads Score: 3.31/5
The Lost Art of Walking — Geoff Nicholson (2008)
Summary: In The Lost Art of Walking, Geoff Nicholson extols the virtues of walking and argues that it is a skill that has been largely forgotten in our modern world. He contends that walking can be used for both transportation and contemplation, and he offers a number of practical tips for those who want to get more out of their walks.
Nicholson observes that walking is a great way to connect with one's surroundings, and he encourages readers to take the time to appreciate the beauty that surrounds them. He also points out that walking can be a powerful tool for self-reflection, and he encourages people to use walks as an opportunity to explore their thoughts and feelings.
Instead of rushing from one place to another, the author encourages readers to savor their surroundings and take the time to truly experience everything that walking has to offer. Although it may seem like a simple concept, the book provides numerous tips and tricks for getting the most out of your walks, both mentally and physically. Whether you're looking to reduce stress, increase creativity, or just get some exercise, The Lost Art of Walking is definitely worth a read.
Memorable Quote: "Your own exploration therefore has to be personalized; you're doing it for yourself, increasing your own store of particular knowledge, walking your own eccentric version of the city."
GoodReads Score: 3.25/5
How to Walk — Thich Nhat Hanh (2015)
Summary: How to Walk is a short but insightful book by Buddhist monk Thich Nhat Hanh which delves into the art of walking meditation. According to Nhat Hanh, the key to walking meditation is keeping your body and mind in sync. When you walk, pay attention to the movements of your body and the way your feet feel on the ground. Simultaneously, keep your mind focused on your breath and any thoughts or feelings that come up.
The goal, he explains, is to stay present in each moment as you walk, without getting lost in distractions or judgments. Walking meditation can be helpful for improving mindfulness, reducing stress, and calming the mind.
It's an easy-to-read book that's not meant to be read all the way through, but rather to be revisited as a daily meditation.
It acts as a reminder that we don't need to rush things to get to our destination faster, and that we'll all reach it in due time. Instead, the idea is to enjoy every second with steady steps and deep breaths, living in the moment, setting your mind free from the past, and not pressuring yourself with the future.
Memorable Quote: "When you walk, arrive with every step. That is walking meditation. There's nothing else to it."
GoodReads Score: 4.18/5
A Philosophy of Walking — Frédéric Gros (2009)
Summary: In A Philosophy of Walking, Frédéric Gros argues that walking is more than just a means of getting from one place to another; it is a thoroughly political act. Walking, he says, allows us to appropriate public space and to create our own paths through the world. It's a way of moving through space that is attuned to our environment and our bodies and a transformative act that can help us see the world in new ways.
Gros makes a compelling case for why we should all walk more. He begins by tracing the history of walking, from its origins in animism and shamanism to its role in the development of philosophy and aesthetics. He then looks at how walking has been misunderstood and rejected by modernity, and illustrates how walking can be used as a tool for bring about social change.
The book also shares some of Gros' own personal experiences of walking, which make for an enjoyable read. This book will likely appeal to anyone who enjoys spending time outdoors or who is interested in philosophy with its multiple references to Nietzsche, Rousseau, Gandhi, Kant and others.
Memorable Quote: "None of your knowledge, your reading, your connections will be of any use here: two legs suffice, and big eyes to see with. Walk alone, across mountains or through forests. You are nobody to the hills or the thick boughs heavy with greenery. You are no longer a role, or a status, not even an individual, but a body, a body that feels sharp stones on the paths, the caress of long grass and the freshness of the wind. When you walk, the world has neither present nor future: nothing but the cycle of mornings and evenings. Always the same thing to do all day: walk. But the walker who marvels while walking (the blue of the rocks in a July evening light, the silvery green of olive leaves at noon, the violet morning hills) has no past, no plans, no experience. He has within him the eternal child. While walking I am but a simple gaze."
GoodReads Score: 3.76/5
Wanderers: A History of Women Walking — Kerri Andrews (2020)
Summary: In Wanderers: A History of Women Walking, Kerri Andrews explores the act of walking as a tool for female emancipation. Andrews draws from history, personal experience, and contemporary media to argue that walking has long been a feminist act—one that has allowed women to claim space and power in a world that has often tried to silence them.
Walking, Andrews argues, is a form of self-care and resistance. By walking we can connect with our bodies and the land in ways that are both healing and empowering. Walking can also be used as a way to explore new neighborhoods, meet people, and find inspiration. And while it's not always easy to walk in a world designed for cars, Andrews reminds us of its importance.
At its essence, this is a book about ten women over the past three hundred years who have found walking essential to their sense of themselves, as people and as writers. From Sarah Stoddart Hazlitt meandering for miles across the Highlands to Virginia Woolf sauntering novels into existence around Bloomsbury, this book blends exploration, willpower, spirituality and struggle into an immersive picture of what it is to be a true walker.
Memorable Quote: "As humans, walking defines us. We are the two-legged apes. We walk, and we talk. We are the thinking minds – thinking in language, more often than not. The rhythms of our walking and our thinking are the same."
GoodReads Score: 3.70/5
Walking One Step at a Time — Erling Kagge (2019)
Summary: In Walking One Step at a Time, Erling Kagge gives us a unique and insightful look into the art and psychology of walking. By drawing on his own experience as an ultralong-distance walker, as well as citing research in neuroscience and psychology, Kagge offers up a fresh perspective on an activity we often take for granted.
The book covers various topics related to walking, including its history, benefits, and techniques. Kagge also provides readers with tips on how to overcome obstacles that may prevent them from enjoying a walk, such as bad weather or tiredness. Ultimately, Kagge argues that anyone can find happiness by simply putting one foot in front of the other.
Filled with interesting anecdotes and bits of wisdom, Walking One Step at a Time is sure to leave you inspired to lace up your own shoes and hit the pavement. As Kagge so eloquently puts it, "Walking is daydreaming with your feet." So what are you waiting for? Get out there and start exploring!
Memorable Quote: "Journeys of discovery are not something you start doing, but something you gradually stop doing."
GoodReads Score: 3.76/5
The Salt Path — Raynor Winn (2018)
Summary: The Salt Path is a heartwarming and inspiring memoir by Raynor Winn that chronicles the transformative journey of a couple who, after losing their home and facing an unexpected terminal illness diagnosis, decide to embark on a 630-mile hike along the South West Coast Path in England.

The book details their emotional and physical struggles, as well as the healing power of nature and human resilience. Through their experiences, the couple learns to appreciate the simple things in life, redefine their concept of "home", and rediscover their love for each other.

The Salt Path is a moving testament to the strength of the human spirit and the redemptive power of the natural world.

Memorable Quote: "If we hadn't done this there'd always have been things we wouldn't have known, a part of ourselves we wouldn't have found, resilience we didn't know we had."
GoodReads Score: 4.07/5
Hiking with Nietzsche: On Becoming Who You Are — John Kaag (2018)
Summary: John Kaag's Hiking with Nietzsche is a stirring meditation on the role of adversity in crafting identity. The book tells the story of how, after dropping out of college and becoming mired in personal and professional struggles, Kaag turns to Friedrich Nietzsche for guidance.
What ensues is a journey both physical and metaphysical, as Kaag hikes along the ridge of the Appalachian Mountains above Sils Maria where Nietzsche wrote his historical work Thus Spoke Zarathustra. Throughout the journey, he grapples with Nietzsche's ideas about self-overcoming and eternal recurrence. Kaag eventually finds himself transformed by both nature and philosophy, coming to see that his previous conceptions of self were too small-minded and that embracing difficulty is essential to living a meaningful life.
Bold, intimate, and full of insight, Hiking with Nietzsche is a book about overcoming complacency, taking risks, connecting with your higher self, and ultimately unlocking a new level of personal freedom.
Memorable Quote: "Walking is among the most life-affirming of human activities. It is the way we organize space and orient ourselves to the world at large. It is the living proof that repetition—placing one foot in front of the other—can in fact allow a person to make meaningful progress."
GoodReads Score: 3.67/5
Neon Pilgrim — Lisa Dempster (2009)
Summary: Neon Pilgrim is the story of a woman on a quest to find her true identity. She was adopted as a child and has spent her life searching for answers about her birth parents. After learning she has terminal cancer, the woman decides to spend her last days traveling the world. Her journey takes her to some of the most beautiful and exotic places on Earth, and along the way she meets interesting characters and learns more about herself than she ever thought possible.
Her journey leads her to an ashram in India, where she finally discovers the truth about her past.
Ultimately, Neon Pilgrim is a celebration of life – its beauty, its mystery, and its endless possibilities. It's a reminder that no matter what might be happening in our lives at any given moment, there's always something wonderful to be found if we're willing to look for it.
Dempster's novel is a thought-provoking story of a spiritual journey that will drawn you in from beginning to end.
Memorable Quote: "Travel is an internal journey as much as an external one… Could I learn and grow without travel? I was seeking something tangible on the henro michi: wellness. Was that something I could have achieved at home? Do I need to be here?"
GoodReads Score: 4.01/5
Wanderlust: A History of Walking — Rebecca Solnit (2002)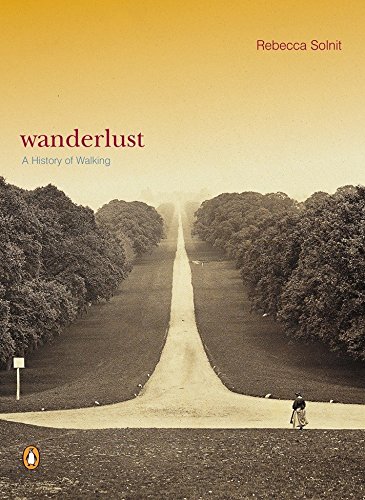 Summary: In Wanderlust, Rebecca Solnit explores the history and significance of walking. She argues that walking has been integral to human civilization and that it has played a significant role in everything from politics and art to love and religion.
Solnit traces the history of walking back to ancient times, when it was considered a sacred activity. She discusses the importance of walking in various cultures and how it has been used as a form of protest, communication, and transportation. She also examines the role of walking in contemporary society and looks at how technology is changing the way we walk.
Ultimately, Solnit argues that walking is a form of liberation that allows us to connect with our surroundings and with other people and she takes readers on a guided trip covering philosophy, history, literature, and culture throughout the centuries.
Memorable Quote: "A lone walker is both present and detached, more than an audience but less than a participant. Walking assuages or legitimizes this alienation."
GoodReads Score: 3.90/5
The Epilogue: Books About Walking
Whether you're looking for an armchair travelogue of walks around the world, a new way of thinking, or a practical guide to improving your walking routine, we've got you covered.
The best books about walking are the ones that make you want to lace up your shoes and hit the pavement. They inspire us to get moving, explore our surroundings, and appreciate the simple pleasure of a good walk.
What's your favorite book about walking? Let us know in the comments below.
You might also enjoy these related posts:
Originally Published: June 19, 2022