Are you feeling overwhelmed and exhausted by the hustle and bustle of modern life? Many of us feel trapped in a relentless cycle of productivity, leaving our mental health compromised.
Slow living is an attractive alternative to mainstream lifestyles, offering a sense of peace and acceptance that can help reduce stress levels while inspiring deeper personal connections with others.
In this post, we'll be exploring 10 books about slow living – each one bringing something unique to the conversation as they offer insights into how taking time out to focus on self-care, wellbeing, and simple pleasures can bring great joys. So sit back, take a deep breath, and let us show you how slowing down can transform your entire existence!
Best Books About Slow Living
Most men pursue pleasure with such breathless haste that they hurry past it.

Søren Kierkegaard
Walden: Or, Life in the Woods — Henry David Thoreau (1954)
Summary: Walden is a book by American writer and philosopher Henry David Thoreau that was first published in 1854. It chronicles his two-year experiment of living a simple life on Walden Pond in Massachusetts and reflecting on the importance of individualism, nature, and self-reliance.
The book is divided into 18 chapters recounted from Thoreau's perspective and enriched with his observations about the simplicity of nature and how it can impact our lives. Each chapter contains a central idea supported by anecdotes or quotes from other authors which illustrate the merits of a simple life and minimalism.
Throughout the book, Thoreau reflects on topics such as friendship, economy, housing, economics, technology, leisure activities, government influence and morality. He also shares his own struggles with personal relationships and how he came to accept himself within nature's cycle. Walden has become an essential part of literature around minimalism, self-improvement, environmentalism and exploration — inspiring generations to reconnect with nature for spiritual growth.
Memorable Quote: "A man is rich in proportion to the number of things which he can afford to let alone."
GoodReads Score: 3.78/5
In Praise of Slowness: Challenging the Cult of Speed — Carl Honoré (2004)
Summary: In Praise of Slowness is a thought-provoking book about the importance and benefits of leading a slower, more mindful life. Honoré examines the current "cult of speed" that has infiltrated almost every aspect of modern life, including work and personal time. He argues that there are numerous negative consequences to living fast-paced lives, such as decreasing personal satisfaction and joy in life, increased stress levels, and higher rates of burnout.
Honoré then provides compelling evidence that living a slower lifestyle leads to increased creativity, enhanced mental health, deeper relationships with others and one's self, and improved productivity in the workplace. The book includes stories from real people whose lives have been transformed by slowing down, as well as practical tips on how to incorporate slowness into one's daily routine. In Praise of Slowness is an essential resource for anyone interested in leading a healthier and happier life.
Memorable Quote: "The great benefit of slowing down is reclaiming the time and tranquility to make meaningful connections—with people, with culture, with work, with nature, with our own bodies and minds."
GoodReads Score: 3.67/5
Essentialism: The Disciplined Pursuit of Less — Greg McKeown (2014)
Summary: Essentialism is a book about the power and value of focusing on just the few things that really matter. It outlines the idea that cutting out extraneous commitments, tasks, and activities can lead to more meaningful lives filled with greater satisfaction and success.
Through a series of personal stories, McKeown illustrates how essentialists think differently by carefully considering inputs and having the courage to say no when necessary. He discusses how this approach can be applied to work, relationships, physical health, spirituality, and more. He also highlights the importance of learning how to distinguish between activities that are important but not essential from those that truly matter in order to avoid burnout.
In short, Essentialism: The Disciplined Pursuit of Less provides an informative yet inspiring guide for everyone looking to simplify their lives in order to focus on what's most important.
Memorable Quote: "What if we stopped celebrating being busy as a measurement of importance? What if instead we celebrated how much time we had spent listening, pondering, meditating, and enjoying time with the most important people in our lives?"
GoodReads Score: 4.05/5
Slow: Simple Living for a Frantic World — Brooke McAlary (2017)
Summary: Slow is a book about the art of slowing down amidst our chaotic world. It speaks to readers who are feeling overwhelmed and worn out, offering practical tips and advice on how to step off the treadmill of life and embrace the power of slow. The book explains that simple living isn't about having less or existing in a state of deprivation; it's actually about living with intention, joy and balance.
McAlary discusses topics such as mindfulness, contentment, understanding our values, decluttering our lives physically and emotionally, creating meaningful connections with others, cultivating self-care practices and more. Ultimately the goal is to create a life that nourishes us from within – one that focuses on quality over quantity when it comes to everything from possessions to relationships. It advocates for embracing simplicity as way to connect with nature and bring about greater peace in our lives.
Memorable Quote: "Balance is finding the correct weight for every area of life and understanding that the correctness of that weight will change over time. Balance is fluid and flexible. Balance is alive and aware. Balance is intention."
GoodReads Score: 3.90/5
The Slow Fix: Solve Problems, Work Smarter and Live Better in a Fast World — Carl Honoré (2012)
Summary: The Slow Fix is an inspiring book about finding a better balance between the fast pace of modern life and the slow, mindful lifestyle advocated in Walden. It encourages readers to take a step back from their daily routines and look for smarter ways to manage their stress and time. Honoré discusses how adopting the "slow fix"—a combination of physical, mental, emotional, creative, and spiritual practices—can lead to more meaningful work, deeper connections with others, improved physical health, and greater happiness.
He outlines seven key principles for achieving the "slow fix": breaking big problems into small ones, embracing complexity, taking an iterative approach, cultivating practical wisdom, learning new skills, getting comfortable with uncertainty, and creating rituals. With inspiring stories of people who have taken up the "slow fix" challenge as well as practical tips on how to apply these principles in everyday life, The Slow Fix offers readers a roadmap for slowing down and savoring life's most important moments.
Memorable Quote: "In a world that prizes action over reflection, and when the clock is ticking, it takes nerve to spend fifty-five minutes thinking. Yet from business to medicine to everything in between, a little inaction can be just what the doctor ordered."
GoodReads Score: 3.64/5
The Little Book of Hygge: Danish Secrets to Happy Living — Meik Wiking (2016)
Summary: The Little Book of Hygge is a book that offers readers an insight into the Danish tradition of hygge (hoo-gah). This concept translates to a feeling of coziness, comfort and contentment that's achieved through embracing togetherness, simple pleasures and mindful living.
In this book, Wiking discusses how to bring more hygge into daily life with practical tips such as creating rituals, boosting moods with natural light, indulging in cozy fabrics and taking time to unplug from technology. It also provides information on the history of hygge and its cultural significance in Denmark.
With advice on how to practice self-care, find joy in small moments and connect meaningfully with others, The Little Book of Hygge is a great read for anyone looking to inject some positivity into their life.
Memorable Quote: "Hygge is about giving your responsible, stressed-out achiever adult a break. Relax."
GoodReads Score: 3.76/5
The Things You Can See Only When You Slow Down: How to Be Calm in a Busy World — Haemin Sunim (2012)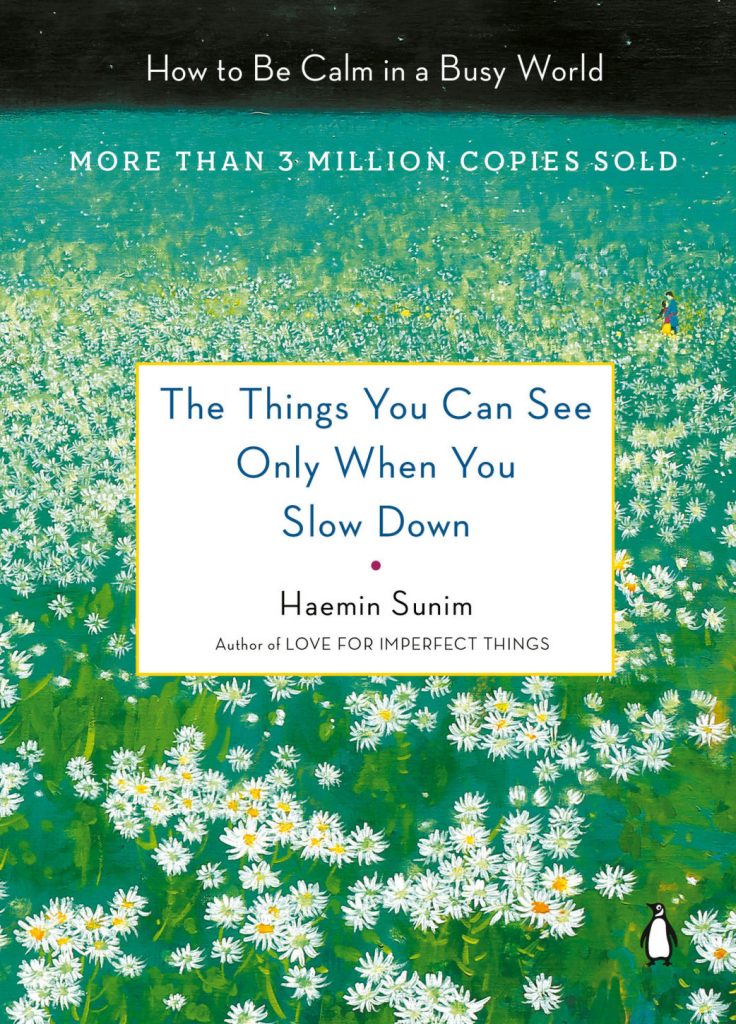 Summary: The Things You Can See Only When You Slow Down: How to Be Calm in a Busy World is an inspiring book about the importance of slowing down in life. It encourages readers to become mindful and introspective.
Sunim offers practical strategies and techniques for reducing stress, finding joy in everyday moments, cultivating meaningful relationships, and achieving balance and peace. He covers topics such as meditation, self-care, resilience, gratitude, forgiveness and living with intention. Additionally, he provides guidance on how to stay calm during difficult times. By taking the time to slow down and reflect on our lives we can learn to be compassionate towards ourselves and others. The Things You Can See Only When You Slow Down is a valuable guidebook for anyone seeking to live a more mindful life.
Memorable Quote: "We know the world only through the window of our mind. When our mind is noisy, the world is as well. And when our mind is peaceful, the world is, too. Knowing our minds is just as important as trying to change the world."
GoodReads Score: 4.07/5
Simple Matters: Living with Less and Ending Up with More — Erin Boyle (2016)
Summary: Simple Matters by Erin Boyle is a must-read book for people who want to live life with intention, meaning and less stuff.
Through her moving personal stories, Boyle provides insight into the joys, challenges and unexpected rewards of living simply. She shares practical tips on how to declutter, downsize, and develop routines that can put more time back in your day.
With an emphasis on sustainability, Boyle offers ideas for bringing style, function, and beauty into small spaces. Throughout the book, she encourages readers to use their resources wisely – from energy and money to time and space – so they can live lighter on the planet while having more room to pursue their passions on their own terms.
Memorable Quote: "When I think about adding a new thing to my home, I think first of its beauty, second of its utility, and finally of its staying power."
GoodReads Score: 3.87/5
The Simple Living Guide — Janet Luhrs (1997)
Summary: The Simple Living Guide by Janet Luhrs is an inspiring and detailed guide for living a slow, purposeful life. The book focuses on mindful living, exploring topics such as de-cluttering and building meaningful relationships with family and friends.
Luhrs provides readers with practical advice to help them simplify their lives, from healthy eating to budgeting. She also encourages readers to find fulfillment through work that creates a positive impact in the world.
Throughout the book, Luhrs emphasizes the importance of living in the present moment and enjoying life's simple pleasures. The Simple Living Guide is an accessible and useful resource for anyone looking to live more deliberately and simply.
Memorable Quote: "Sacred time is our time. We own our time. Most of us don't see it that way—we give it away all over the place and then wonder where it went."
GoodReads Score: 3.97/5
Digital Minimalism: Choosing a Focused Life in a Noisy World — Cal Newport (2019)
Summary: Digital Minimalism is an exploration of how to achieve balance in one's life in the midst of our digital age. It examines how digital technology has shaped modern life and how it can be used mindfully for productive and meaningful purposes.
Newport argues that digital tools and services have taken over our lives, crowding out worthwhile activities like spending time with family or reading books, and taking away from potential mental health benefits. He recommends a new approach to technology he calls "digital minimalism," which encourages people to carefully examine their relationship with technology and cut back on unnecessary use.
Through this approach, readers are able to focus on what matters most while still enjoying the benefits of technological advances. The book includes practical advice on developing habits that cultivate focus, attention, and engagement rather than distractedness. Furthermore, it offers guidance on how to determine which activities are truly essential for living a rich life and how to navigate the intersection between technology usage and mental health.
Memorable Quote: "Conversation enriches the understanding, but solitude is the school of genius."
GoodReads Score: 4.07/5
The Epilogue: Books About Slow Living
And there you have it. We've explored some of the best books about slow living, and while they all come with unique approaches and perspectives, one thing is universal: they all seek to inspire positive changes in our lives. Don't we owe it to ourselves to explore them and treat ourselves to the knowledge, inspiration and guidance that can be deeply transformative?
Of course, no single book will provide all the answers – but if we reflect on our own experiences, values and goals as well as take into account what we learn from these authors, perhaps it can help lead us towards a more fulfilling life. So why not take some time for self-discovery today?
Let us know what resonated with you and how you apply those principles in your day-to-day life by leaving a comment below!
P.S. You might also enjoy these related posts: