In a world dominated by media, marketing, and societal pressures, it's no wonder that many of us feel entrapped by invisible chains.
Often referred to as 'social conditioning,' (or societal conditioning) these unseen forces heavily influence your thoughts, beliefs, behaviors, and the paths you follow in life.
They mold your worldviews and can lead you into a life of conformity, devoid of authentic individuality.
But what if you could break free? What if you could escape this societal matrix and see the world with fresh eyes, unclouded by external influences? Through my worldly adventures, I've been shown a new path and discovered freedom in the process. I wanted to share some of the resources that have helped me the most.
Get ready to challenge your assumptions, question the status quo, and embark on a journey of self-discovery and enlightenment. These books can help unlock a life less ordinary, a life where you are the master of your destiny.
Books About Social Conditioning
From classical literature to modern psychology, these authors unravel the complex web of influences that shape your life, offering insights, tools, and the wisdom to transcend societal constraints.
One believes things because one has been conditioned to believe them.

Aldous Huxley
Summary: In Waking Up, neuroscientist and philosopher Sam Harris explores the concept of spirituality without the lens of religious belief. Harris delves into meditation, mindfulness, and the nature of consciousness, providing a scientific approach to understanding your own mind.
While not directly addressing social conditioning, Harris's insights into self-awareness and critical thinking enable you to break free from the constraints of societal expectations and dogma. He encourages an honest inquiry into your beliefs and values, often shaped by societal pressures, and offers a path to a more conscious and connected life. Through understanding your own mind and learning to question the beliefs imposed upon you, Waking Up provides a tool to escape the metaphorical matrix of social conditioning.
Memorable Quote: "My mind begins to seem like a video game: I can either play it intelligently, learning more in each round, or I can be killed in the same spot by the same monster, again and again."
GoodReads Score: 3.91/5
Summary: The 48 Laws of Power is a masterful guide to understanding and wielding power in various aspects of life. Robert Greene meticulously outlines 48 laws that govern power dynamics, based on historical examples and the writings of figures like Machiavelli and Sun Tzu.
While the primary focus of the book is on personal advancement, it inadvertently reveals the mechanisms of social conditioning that shape your interactions and behaviors. Greene exposes the often manipulative techniques used by those in power to control and influence others. By understanding these laws, you can recognize how social norms and expectations are crafted, and how individuals can be conditioned to respond in certain ways.
An eye-opening read, this book empowers you not only to wield power but to see through the hidden machinations of social conditioning, providing insights into how you can escape these constraints and pursue true agency in your life.
Memorable Quote: "When you show yourself to the world and display your talents, you naturally stir all kinds of resentment, envy, and other manifestations of insecurity…you cannot spend your life worrying about the petty feelings of others."
GoodReads Score: 4.15/5
Summary: Reality Transurfing Steps I-V is a groundbreaking work by Russian author Vadim Zeland. It explores the idea that reality is not fixed and that you can choose your reality by following specific principles, akin to "surfing" through various possibilities.
The book uncovers how social conditioning can create a limited framework that confines your thinking and choices. Zeland presents the concept of "Pendulums," societal constructs that dictate patterns of behavior and thought, trapping individuals within a prescribed reality. These Pendulums often stem from societal norms, beliefs, and expectations, which can be potent forms of social conditioning.
Reality Transurfing offers you the tools to recognize these Pendulums and the ability to detach from them, providing a path to a freer and more authentic existence. By understanding how to navigate different realities, you can escape the matrix of social conditioning and shape your own destiny. The book's profound insights and practical guidance make it an essential read if you're seeking to break free from societal constraints and construct your reality.
Memorable Quote: "My mind begins to seem like a video game: I can either play it intelligently, learning more in each round, or I can be killed in the same spot by the same monster, again and again."
GoodReads Score: 4.44/5
Summary: In Freedom: The Courage to Be Yourself, Osho, the provocative spiritual teacher, examines the societal chains that bind us and prevent us from realizing our true nature. He emphasizes that true freedom does not come from the external world but from understanding and embracing your inner self.
Osho challenges the norms, beliefs, and values imposed by society, which he perceives as essential forms of social conditioning. These constraints, he argues, limit our growth and keep us from living authentic and fulfilling lives. According to Osho, many people are caught in roles and expectations that they never truly chose, but instead accepted due to societal pressures.
The book provides insights and meditative techniques to help your break free from these artificial constructs. By embracing the courage to be yourself, without the restrictions placed by society, you can attain a state of true freedom and self-realization. Osho's words serve as a call to action for those who seek liberation from the stifling influences of social conditioning and a desire to live an unbounded life.
Memorable Quote: "The freedom to do anything you want is not freedom either, because wanting, desiring to "do" something, arises out of the mind— and mind is your bondage."
GoodReads Score: 4.07/5
Summary: Friedrich Nietzsche's Beyond Good and Evil explores the inherent complexities of moral values and challenges the traditional dichotomies of good and evil. He critiques the social conditioning that has shaped our moral compass, arguing that these binary concepts are human-made constructs rather than absolute truths.
Nietzsche questions the universal acceptance of Christian moral values, which he sees as a form of social control that stifles individuality and creativity. He asserts that your values and morality are often products of your culture and upbringing rather than reflections of innate human nature or objective reality.
The book encourages you to transcend these conditioned moral judgments and to forge your own path. By doing so, Nietzsche believes you can move beyond the confines of societal expectations and embrace a more authentic and liberated existence.
Beyond Good and Evil is not merely a philosophical treatise, it's a daring call to action to think critically about the origins of our beliefs and to have the courage to challenge and redefine them. It provides a profound insight into the nature of social conditioning and its influence on our thoughts, behavior, and perceptions of reality.
Memorable Quote: "Madness is something rare in individuals — but in groups, parties, peoples, and ages, it is the rule."
GoodReads Score: 4.02/5
Summary: Denise Winn's The Manipulated Mind delves into the terrifying and fascinating world of mind control, brainwashing, conditioning, and indoctrination. Drawing from a range of disciplines, including psychology, sociology, and history, the book explores how individuals and societies can be manipulated through various forms of persuasion and control.
Winn provides a detailed examination of the methods and techniques used by cults, totalitarian regimes, advertisers, and even mainstream media to influence and shape our beliefs and behaviors. She explains how social conditioning can begin subtly in childhood and permeate all aspects of your life, leading you to accept certain values, norms, and ideologies without question.
The Manipulated Mind serves as a wake-up call, urging you to recognize and break free from the unseen forces that guide your life. By understanding how conditioning works, you can begin to see the world with fresh eyes and resist the insidious influences that seek to control and constrain you.
This book offers an invaluable perspective for anyone interested in understanding the mechanics of social conditioning and the pervasive ways it affects our thoughts, actions, and decisions.
Memorable Quote: "People cannot be trusted to say and do what they think is right if others around them are expressing an opposite opinion."
GoodReads Score: 4.02/5
Summary: Influence by Robert B. Cialdini is a groundbreaking exploration of the psychological mechanisms that lead people to comply with requests and be influenced by others. Though not strictly focused on social conditioning, the book illuminates many of the principles that underlie the ways societies condition you to act and think in particular ways.
Cialdini introduces the six key principles of persuasion: reciprocity, commitment and consistency, social proof, authority, liking, and scarcity. These principles, which are often used by marketers, salespeople, and politicians, shed light on how you can be subtly hypnotized to make certain decisions or adopt specific attitudes.
Through engaging examples and meticulous research, the book shows how these principles play out in various contexts, from consumer behavior to social interactions. Understanding these dynamics equips you with the tools to recognize when you're being influenced and to wield these powerful tools yourself.
By exposing the psychological triggers that lead to persuasion, "Influence" enables you to become more critical and reflective about the forces that shape your behavior. In the context of social conditioning, it provides insights into how you can be molded to conform to societal norms and expectations, and how you can resist these influences.
It's a must-read for anyone interested in the complex interplay between psychology, persuasion, and social forces.
Memorable Quote: "A well-known principle of human behavior says that when we ask someone to do us a favor we will be more successful if we provide a reason. People simply like to have reasons for what they do."
GoodReads Score: 4.21/5
Summary: The Meditations of Marcus Aurelius is a collection of personal reflections and philosophical thoughts penned by the Roman Emperor Marcus Aurelius. While it doesn't directly discuss social conditioning in contemporary terms, its themes touch upon personal integrity, ethical living, and self-awareness in the face of societal pressures.
Aurelius, a proponent of Stoicism, emphasizes the importance of understanding the natural order of the universe, the acceptance of what you cannot control, and the ethical obligation to act in accordance with reason and virtue. Through his meditations, he encourages you to reflect on their behavior and thoughts critically, to recognize the influence of external forces, and to act with inner conviction.
In an era where social roles were rigid and conformity was expected, Aurelius's emphasis on individual thought, self-reflection, and principled action serves as an example of transcending societal expectations. His writings remind you that, despite the pressures and conditioning of society, you retain the capacity to think independently and live in accordance with your deepest values.
"The Meditations" can be seen as an early guide to freeing yourself from the constraints of societal conditioning and pursuing a life of authenticity, wisdom, and virtue. Its timeless insights continue to resonate with readers seeking to understand their place in the world and cultivate a mindful and principled existence.
Memorable Quote: "You have power over your mind – not outside events. Realize this, and you will find strength."
GoodReads Score: 4.27/5
Summary: Designing the Mind is a forward-thinking book that delves into the process of consciously constructing your mental architecture. The book operates on the premise that your minds has been shaped by your surroundings, societal influences, and past experiences, which leads to social conditioning.
Psychitecture, as defined in this book, is the intentional design of mental habits, beliefs, and thought processes. By acknowledging how social conditioning has molded your thinking and behavior, the authors present you with practical tools and methodologies to deconstruct, analyze, and rebuild your mental frameworks.
The book is a response to the fact that many people live their lives according to scripts handed down by society, family, and other influential figures. It challenges the status quo by encouraging you to recognize and break free from these pre-imposed molds and create a mental landscape aligned with your unique values, goals and personality.
It's an essential read for anyone seeking to escape the constraints of social conditioning and actively participate in shaping their own mental world.
Memorable Quote: "Much of the pain we experience is caused not by events we wish to avoid, but by the identity we wish to have."
GoodReads Score: 4.25/5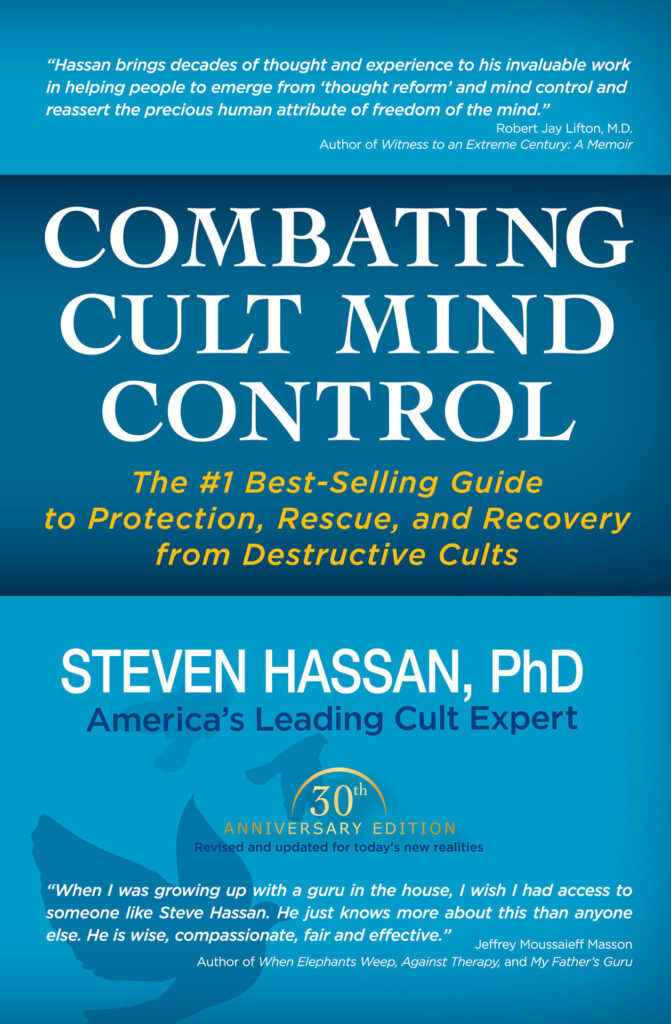 Summary: Steven Hassan's Combatting Cult Mind Control is a seminal work that dives deep into the world of cults and their methods of mind control and indoctrination. Written by a former cult member, the book offers an insider's look at how these organizations use social conditioning techniques to manipulate and control their followers.
Hassan introduces the BITE model (Behavior, Information, Thought, Emotion control), a comprehensive framework to understand how cults operate. He illustrates how these groups exert control over every aspect of a person's life, from what they eat and wear to how they think and feel.
The book is not just about cults in the traditional sense. Tt also explores the broader topic of undue influence and how similar methods of control and manipulation can be found in various aspects of society, including advertising, politics, and personal relationships.
Through real-life examples, practical advice, and detailed analysis, Combatting Cult Mind Control empowers you to recognize and resist these manipulative tactics. It's an eye-opening read that offers valuable insights into social conditioning and provides tools to protect yourself and those close to you from undue influence and manipulation.
Memorable Quote: "A person's right to believe, however, does not grant them an automatic license to act indiscriminately on those beliefs."
GoodReads Score: 4.42/5
Summary: A pioneering work in the field of public relations and mass communication, Propaganda by Edward L. Bernays offers a transparent look at the strategies used to shape public opinion and manipulate societal behavior.
Bernays, often considered the father of public relations, was an expert in applying psychological principles to influence the masses. In Propaganda, he candidly discusses the methods used by governments, corporations, and other entities to craft messages and images that guide the public's thoughts and actions in desired directions.
He argues that the manipulation of public opinion is essential for the smooth functioning of a democratic society. But he also lays bare the ethical dilemmas involved in these manipulations, highlighting the thin line between influence and manipulation.
What makes this book particularly striking is its application to social conditioning. Bernays explains how the principles used in propaganda are the same ones that shape your values, beliefs, and behaviors on a daily basis. The book provides an unvarnished look at the subtle, pervasive influences that govern your thoughts and actions, and how they can be leveraged for both good and evil.
Memorable Quote: "Men (people) are rarely aware of the real reasons which motivate their actions."
GoodReads Score: 3.76/5
Summary: 1984 is a dystopian novel by George Orwell that has become a symbol of governmental overreach and the dangers of totalitarianism. Set in the imagined future, the novel follows Winston Smith, a citizen of the superstate of Oceania, where the Party, led by Big Brother, exercises total control over all aspects of life.
Orwell explores the insidious ways in which totalitarian regimes can control and manipulate thought through propaganda, surveillance, and the alteration of historical records. This manipulation leads to a society where individuals are robbed of their autonomy and identity, reduced to mere cogs in the Party's machine.
The themes of 1984 resonate deeply with the concept of social conditioning, illustrating how power can be maintained through the control of thought, language, and truth. Orwell's chilling vision serves as a cautionary tale about the fragility of freedom and the human spirit in the face of systematic manipulation and control.
Memorable Quote: "Who controls the past controls the future. Who controls the present controls the past."
GoodReads Score: 4.19/5
The Epilogue: Books About Social Conditioning
In the intricate web of societal norms and expectations, it's easy to lose oneself. The books listed above offer a roadmap to understanding and overcoming the social conditioning that often hinders your true potential.
By exploring these works, you invite not just knowledge but the empowerment to think independently, live authentically, and escape the constraints of the invisible matrix that surrounds us. The journey towards self-awareness and freedom starts with a single step, and these books are an ideal companion on that path.
Embrace the challenge, and begin your exploration today.
What books about social conditioning would you add to the collection?
P.S. You might also enjoy these related posts: