Do you dream of starting your own business and taking control of your financial future?
If launching an online venture is top of mind, you're not alone. The internet has opened up countless opportunities for entrepreneurs to create their own businesses from the comfort of their homes. But where do you begin?
If you're looking for motivation and guidance on how to get started, this list of the best books about starting a business online are essential reading. From step-by-step directions on setting up a website to practical advice on how to succeed in the startup world, each one will help equip aspiring entrepreneurs with actionable knowledge that can be applied immediately. For example, I successfully applied the knowledge I learned in The Learn Startup to make my first dollar online.
Ready? Let's get started!
Best Online Business Books
Our job is to connect to people, to interact with them in a way that leaves them better than we found them, more able to get where they'd like to go.

Seth Godin
The Lean Startup: How Today's Entrepreneurs Use Continuous Innovation to Create Radically Successful Businesses — Eric Reis (2011)
Summary: The Lean Startup by Eric Reis is a comprehensive guide to building a successful business from the ground up, and was responsible for helping me test my initial business ideas. It focuses on the concept of "lean", which involves testing and iterating ideas quickly in order to maximize the chances of success. Reis argues that entrepreneurs should focus on creating a "minimum viable product" and gathering customer feedback as soon as possible, rather than spending too much time and resources on planning. The book also covers topics such as how to measure progress, develop strategic partnerships, manage remote teams, and use analytics to make better decisions.
Through interviews with business leaders and case studies, Reis offers advice for entrepreneurs of all levels who are looking to start their own venture or scale their business. With thorough guidance on innovation, risk management, product development, marketing tactics and more, The Lean Startup provides an invaluable roadmap for aspiring entrepreneurs and established business owners alike.
Memorable Quote: "We must learn what customers really want, not what they say they want or what we think they should want."
GoodReads Score: 4.11/5
Zero to One: Notes on Startups, or How to Build the Future — Peter Thiel (2014)
Summary: Zero to One is an inspiring and informative book that provides valuable advice for entrepreneurs looking to build a successful business.
The main idea of the book is that startups should focus on creating something completely new instead of copying existing businesses. To do this, Thiel advises readers to think deeply about their market and develop a unique value proposition in order to create a competitive advantage. He also emphasizes the importance of building long-term relationships with customers through customer service, staying current with technology, and focusing on innovation and experimentation.
Zero to One offers practical advice on how entrepreneurs can create something from nothing, as well as inspiring stories from some of the most successful entrepreneurs in history.
Memorable Quote: "Indeed, pursuing pleasure, Seneca warns, is like pursuing a wild beast: On being captured, it can turn on us and tear us to pieces. Or, changing the metaphor a bit, he tells us that intense pleasures, when captured by us, become our captors, meaning that the more pleasures a man captures, "the more masters will he have to serve."
GoodReads Score: 4.18/5
The E-Myth Revisited: Why Most Small Businesses Don't Work and What to Do About It — Michael E. Gerber (1985)
Summary: The E-Myth Revisited is a business book that offers readers insights into the common mistakes of online entrepreneurs. The book focuses on how to start an online business and covers topics such as avoiding burnout, building a strong business foundation, and managing multiple businesses. It also provides practical advice on how to build and maintain successful businesses.
By utilizing the fundamentals of the E-Myth philosophy, Gerber helps entrepreneurs understand the importance of systems and processes for any business structure and provides step-by-step instructions for creating them. He outlines key principles such as understanding customer needs, creating reliable systems for marketing and sales, identifying the core competencies that make up a successful business model, setting measurable goals, and properly delegating tasks.
With this comprehensive guidebook, readers have access to invaluable information that will enable them to create a profitable and sustainable online business.
Memorable Quote: "Contrary to popular belief, my experience has shown me that the people who are exceptionally good in business aren't so because of what they know but because of their insatiable need to know more."
GoodReads Score: 4.05/5
Blue Ocean Strategy: How to Create Uncontested Market Space and Make the Competition Irrelevant — W. Chan Kim and Renée Mauborgne (1994)
Summary: Blue Ocean Strategy is a must-read business book for entrepreneurs who are looking to make their mark in the online business world. Through this essential guide, readers can learn the skills necessary to identify untapped opportunities and create new markets.
The authors' central concept of "blue ocean strategy" focuses on creating products and services that have no competition in order to expand one's market share and maximize profitability. To do so, they propose four key steps: 1) understanding the context of competition, 2) analyzing current industry factors, 3) envisioning market potential, and 4) developing strategies for success.
The book also provides several case studies demonstrating how businesses have applied blue ocean strategy to their advantage, such as Cirque de Soleil, Starbucks, and Apple.
Blue Ocean Strategy is a comprehensive manual packed with valuable information that can help any entrepreneur better position themselves in an ever-evolving online marketplace.
Memorable Quote: "Value innovation requires companies to orient the whole system toward achieving a leap in value for both buyers and themselves."
GoodReads Score: 4.00/5
The 4-Hour Workweek: Escape 9-5, Live Anywhere, and Join the New Rich — Timothy Ferriss (2007)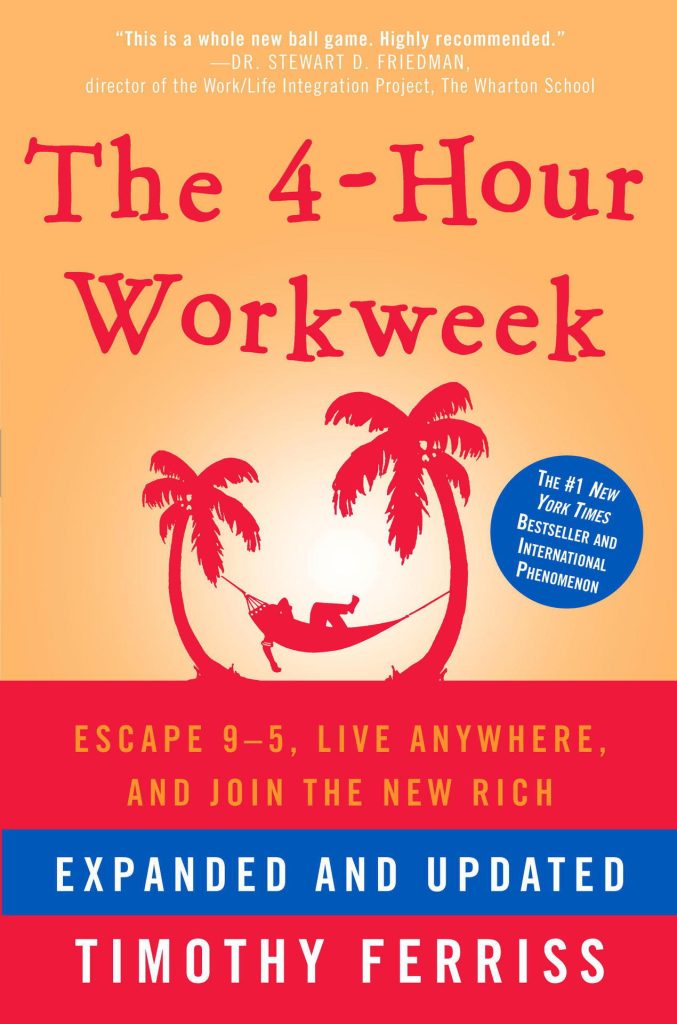 Summary: The 4-Hour Workweek is a revolutionary book that gives readers the tools they need to start their own online business and achieve financial freedom. With practical strategies and case studies, Tim Ferriss shows readers how to break free from the traditional 9-5 grind and reach success while working less than four hours a week. It was the book that first inspired me on my journey to creating online businesses!
The book covers topics such as escaping the rat race, creating automation systems, setting up virtual teams, outsourcing tasks, reducing taxes, leveraging time zones, eliminating the need for traditional office space, and optimizing lifestyle choices. It also offers tips on how to make money while traveling or living abroad.
The 4-Hour Workweek revolutionizes the way we look at work and challenges us to think differently about our careers. If we want to be successful in both our professional and personal lives, this book provides an actionable roadmap for achieving it quickly and efficiently.
Memorable Quote: "Never automate something that can be eliminated, and never delegate something that can be automated or streamlined. Otherwise, you waste someone else's time instead of your own, which now wastes your hard-earned cash. How's that for incentive to be effective and efficient?"
GoodReads Score: 3.92/5
The Art of the Start: The Time-Tested, Battle-Hardened Guide for Anyone Starting Anything — Guy Kawasaki (2004)
Summary: The Art of the Start, written by business advisor and former Apple executive Guy Kawasaki, is an essential guide for anyone looking to launch a successful online business. This comprehensive resource covers every stage of startup development, from crafting a realistic vision to generating revenue. It guides readers through the process of identifying opportunities, building teams, developing products, marketing strategies, and raising capital. It also offers guidance on how to stay organized and motivated while providing tips and techniques to maximize growth potential.
With its straightforward advice, practical examples, and insider insights from experienced entrepreneurs, The Art of the Start is an invaluable resource for anyone wanting to get their business off the ground.
Memorable Quote:"Good enough is good enough. There is time for refinement later. It's not how great you start—it's how great you end up."
GoodReads Score: 3.88/5
The Founder's Dilemmas: Anticipating and Avoiding the Pitfalls That Can Sink a Startup — Noam Wasserman (2011)
Summary: The Founder's Dilemmas by Noam Wasserman is an in-depth look into the world of online business startups. It explores a wide variety of topics, including the best ways to recruit and manage a team, how to decide when to accept outside funding, and how to handle the complexities of equity ownership.
The book provides readers with practical advice on how to navigate the often difficult decisions that must be made during the early stages of an online business. With case studies from some of today's most successful entrepreneurs and research from leading scholars in entrepreneurship, this book is a must-read for anyone looking to launch their own online business.
Memorable Quote: "Setting the early equity split in stone, without allowing for changes, is one of the biggest mistakes founders can make."
GoodReads Score: 4.01/5
The $100 Startup: Reinvent the Way You Make a Living, Do What You Love, and Create a New Future — Chris Guillebeau (2012)
Summary: The $100 Startup by Chris Guillebeau is a comprehensive guide to getting started with an online business. It covers all the basics of starting a business from scratch and how to succeed in it.
In the book, Chris gives tips on how to identify a profitable niche, build your website or product, drive traffic, manage customer relationships, create compelling content, and measure success. As a bonus, he also provides practitioners with his tried-and-true strategies for financing a business cheaply and finding mentors who can provide invaluable advice.
The book is filled with case studies of real people who have succeeded in their own businesses and it provides detailed step-by-step advice on how to do the same. With this book as your guide, you'll be able to launch your own profitable business even if you have limited financial resources.
Memorable Quote: "To succeed in a business project, especially one you're excited about, it helps to think carefully about all the skills you have that could be helpful to others and particularly about the combination of those skills."
GoodReads Score: 3.87/5
Entrepreneurial You: Monetize Your Expertise, Create Multiple Income Streams, and Thrive — Dorie Clark (2017)
Summary: Entrepreneurial You by Dorie Clark is an incredibly in-depth and helpful guide to starting a successful online business. It provides readers with actionable advice on how to turn ideas into profitable ventures.
The book breaks down the process of launching a business into easily digestible steps, such as developing an idea, testing it out, and creating a business plan. Additionally, it covers topics like marketing strategies and financial planning—everything one needs to know in order to make their venture successful. It also features interviews with successful entrepreneurs who share their hard-won wisdom and tips for success.
With its inspiring stories and practical advice, Entrepreneurial You is the perfect resource for anyone considering launching an online business.
Memorable Quote: "Don't count on payment until you've started to establish yourself a bit."
GoodReads Score: 3.95/5
Traction: How Any Startup Can Achieve Explosive Customer Growth — Gabriel Weinberg and Justin Mares (2014)
Summary: Traction is a comprehensive guide to launching a successful online business. It covers key topics such as building a secure foundation for your business's growth, doing market research to determine which strategies should be implemented and how, gaining traction from the start, setting up processes for effective customer relationships, and scaling up your company.
Through practical advice and real-world case studies, the authors explain the best methods to drive customer interest in an online business while analyzing potential risks. They also provide guidance on how to capitalize on your success by optimizing resources and expanding into new markets. With its focused approach and insight into essential topics, Traction is essential reading for any entrepreneur looking to make their venture thrive.
Memorable Quote: "The faster you run high quality experiments, the more likely you'll find scalable, effective growth tactics. Determining the success of a customer acquisition idea is dependent on an effective tracking and reporting system, so don't start testing until your tracking/reporting system has been implemented."
GoodReads Score: 4.12/5
The Long Tail: Why the Future of Business is Selling Less of More — Chris Anderson (2006)
Summary: The Long Tail explains how major businesses have shifted their strategies in order to focus on selling less of more. Anderson argues that mass markets are no longer the only way for businesses to succeed, and instead, individualized products and services can be sold to target niches that otherwise wouldn't have been reached.
He further elaborates on the implications this could have for small business owners looking to launch an online store, providing insight into various market sectors and ecommerce trends. Anderson also provides detailed information about how marketing, logistics, customer relations and other operational areas must be adapted to make this transition successful.
The book also looks at potential new revenue streams through creative approaches such as user-generated content, subscription models and micro-payments. Ultimately, The Long Tail provides an actionable guide for any entrepreneur who intends to create a profitable online business.
Memorable Quote: "When the tools of production are available to everyone, everyone becomes a producer."
GoodReads Score: 3.82/5
Will it Fly?: How to Know If Your New Business Idea Has Wings…Before You Take the Leap — Thomas K. Knight (2003)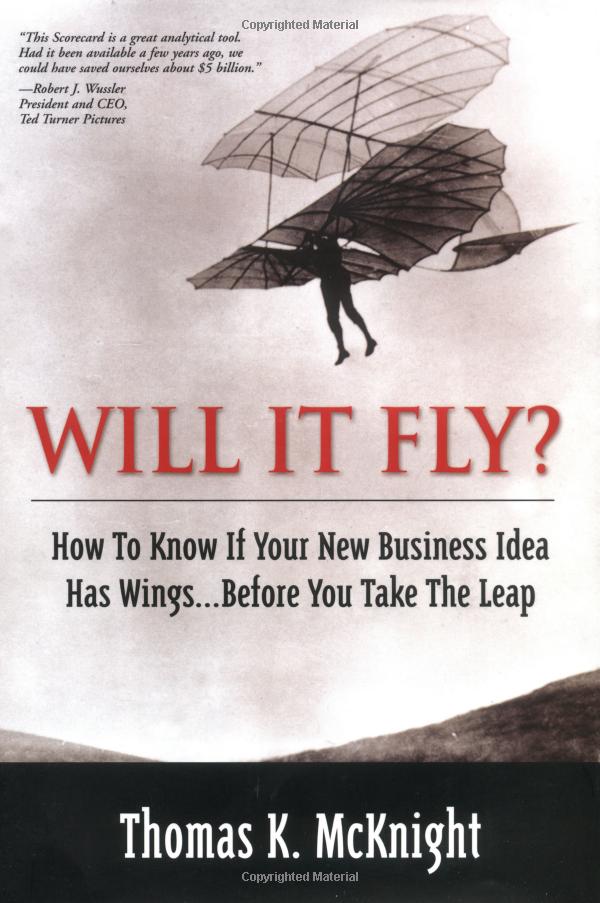 Summary: Will It Fly is an essential read for entrepreneurs who have a business idea and want to validate it before investing time, money and energy into it. By using a step-by-step approach, the book helps readers identify market risks and opportunities while creating a road map and financial forecasts with realistic expectations.
The book also offers practical advice to anticipate potential obstacles, develop an effective marketing plan, increase confidence in the business model and find out if the idea can fly. It provides methods for testing ideas, conducting market research, developing strategies and building momentum for launching successful startups. With its clear guidance, this book helps entrepreneurs turn their ideas into sustainable businesses.
Memorable Quote: "If your product fulfills a need, and that need is unserved elsewhere, and if it is compelling, then you should be well positioned for success."
GoodReads Score: 3.80/5
The Epilogue: Books About Online Business
It may seem overwhelming taking that first step and deciding what type of business you would like to start, but with a combination of knowledge and determination you can succeed. Start searching for which niche is right for you and find the books that make the most sense to help get your ideas off the ground.
Don't forget to reach out to a mentor or CEO who has also gone through creating and running a similar kind of business — they're often willing to share their mistakes and successes so you don't have to repeat them.
In the end, being well-versed in information pertinent to running a business will give you more confidence when making important decisions. There are always invaluable resources available, so be sure to reference this list of the best books about starting an online business.
Which book resonated with you the most? Leave a comment to let us know!
P.S. You might also enjoy these related posts: