Every digital nomad knows that the journey towards a location-independent lifestyle is as much about the inner voyage as it is about the physical travels. It's a lifestyle that pushes the boundaries of work and play, challenging the norm while promising the freedom of exploration and self-discovery.
This pursuit of freedom and a life less ordinary is eloquently captured in the pages of this list of nomadic books. They offer much-needed guidance, share the tales of those who've trodden this path before us, and provide the inspiration that fuels the nomadic journey.
Whether you're considering the leap into a location-independent life, or you're a seasoned digital nomad seeking new insights, the books on this list will resonate with you.
So sit back, grab your e-reader or physical book, and dive into our curated selection of the best digital nomad books.
Best Digital Nomad Books
Travel is never a matter of money but of courage.

Paolo Coelho
The 4-Hour Work Week: Escape 9-5, Live Anywhere, and Join the New Rich — Tim Ferriss (2007)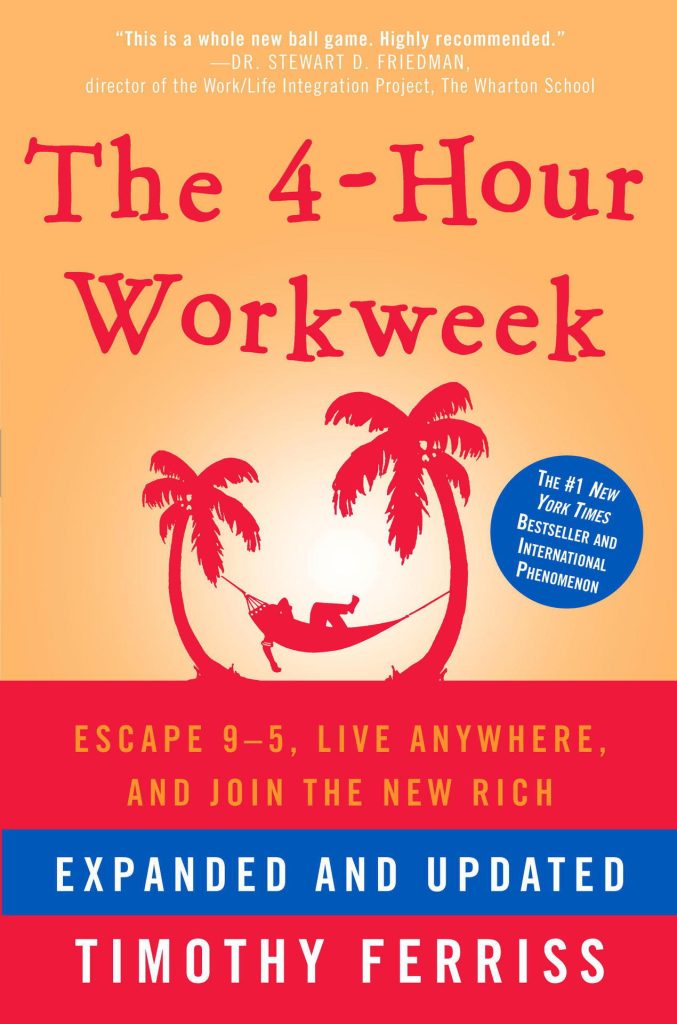 Summary: In The 4-Hour Workweek, Tim Ferriss dismantles the traditional notion of a 9-to-5 job, presenting an alternative blueprint for a life that couples work with the freedom to travel and explore. It's the Bible of digital nomad books, and helped kickstart the movement.
Ferriss introduces the concept of "lifestyle design" and shares strategic tips for achieving it: outsourcing mundane tasks, eliminating inefficiencies, and generating passive income. He breaks down intimidating barriers in the world of remote work and entrepreneurship, showing readers how they can live the life of a 'New Rich'—those who abandon the deferred-life plan to create luxury lifestyles in the present.
Whether you aspire to be a digital nomad or simply seek more balance in your life, "The 4-Hour Workweek" will challenge your preconceptions about work and inspire you with practical methods for living a life of freedom and fulfillment, without being chained to an office desk.
Memorable Quote: "Most people will choose unhappiness over uncertainty."
GoodReads Score: 3.92/5
Vagabonding — Rolf Potts (2002)
Summary: In Vagabonding, Rolf Potts gifts the reader with a robust guide to embracing a nomadic lifestyle, invaluable not just to those with wanderlust but also to digital nomads yearning to break free from their routine.
Potts challenges the standard American work ethic, advocating instead for meaningful and immersive travel. He shares practical tips on financing your travel time, determining your destination, adjusting to life on the road, and handling travel adversities.
As a seminal work for long-term travel, the book extols the benefits of taking time off from one's regular life to discover and experience the world on a personal level.
For digital nomads, Vagabonding is a manifesto of freedom from the geographical ties of work, and a guidebook to integrating travel and life, wherever Wi-Fi can be found.
Memorable Quote: "The value of your travels does not hinge on how many stamps you have in your passport when you get home — and the slow nuanced experience of a single country is always better than the hurried, superficial experience of forty countries."
GoodReads Score: 3.95/5
The Art of Non-Conformity: Set Your Own Rules, Live the Life You Want, and Change the World — Chris Guillebeau (2010)
Summary: The Art of Non-Conformity serves as a clarion call for individuals who crave a life beyond conventional norms. Guillebeau argues against the confines of a traditional 9-5 lifestyle, and instead promotes the idea of forging your own path, whether it be through entrepreneurship, travel, or creative pursuits.
The book is packed with valuable insights and actionable advice, encouraging readers to establish their own rules and live life on their own terms. It is especially relevant for digital nomads, as Guillebeau himself has journeyed to every country in the world, blending work and adventure seamlessly. It encourages readers to harness the power of the digital age, defy societal expectations, and curate a life rich in unique experiences and personal satisfaction.
Memorable Quote: "Unreasonable," "unrealistic," and "impractical" are all words used to marginalize a person or idea that fails to conform with conventionally expected standards."
GoodReads Score: 3.81/5
Nomad Capitalist: Reclaim Your Freedom with Offshore Companies, Dual Citizenship, Foreign Banks, and Overseas Investments — Andrew Henderson (2018)
Summary: Nomad Capitalist is a compelling guidebook for individuals yearning for a life unbounded by geographic borders. Henderson offers an enlightening roadmap to maximizing personal freedom and financial prosperity by leveraging the opportunities present outside one's home country.
The book delves into the intricacies of global diversification, from offshore banking and international corporations to obtaining dual citizenship and making savvy overseas investments. It provides a trove of practical advice for digital nomads seeking to optimize their financial footprints while experiencing the exhilarating freedom of international travel.
Whether you're a fledgling digital nomad or an experienced globetrotter, this book equips you with the tools and insights needed to construct a lifestyle that embodies both geographic and economic freedom.
Memorable Quote: "To thrive in an ever-globalizing world, you must do what others do not do and go where others will not go."
GoodReads Score: 3.94/5
Steal Like an Artist: 10 Things Nobody Told You About Being Creativity — Austin Kleon (2012)
Summary: Steal Like an Artist is a manifesto for creativity in the digital age. Kleon shatters the myth of originality by advocating for embracing influence and borrowing from others as an integral part of the creative process.
This book holds valuable insights not just for artists, but also for digital nomads who are often creators and innovators in their own right. Kleon argues that creativity is everywhere and within everyone's reach, it's all about seeing things differently and reimagining what's already there.
For digital nomads, this reframing of creativity can lead to a surge in innovation, whether it be in coding a new app, writing a travel blog, or starting an online business. Steal Like an Artist encourages you to embrace your own creative potential, regardless of your walk of life.
Memorable Quote: "If you ever find that you're the most talented person in the room, you need to find another room."
GoodReads Score: 3.96/5
How to Travel the World on $50 a Day: Travel Cheaper, Longer, Smarter — Matthew Kepnes (2013)
Summary: How to Travel the World on $50 a Day by Matthew Kepnes, popularly known as Nomadic Matt, is a treasure trove of practical advice for budget-conscious travelers, and a godsend for digital nomads who are always on the move.
Matt dispels the myth that travel is an expensive luxury, and demonstrates how it can be affordable and accessible. He shares money-saving tips and tricks, such as leveraging travel credit cards, finding affordable accommodation, eating like a local, and avoiding tourist traps. He also shares destination-specific advice for Europe, Asia, Australia, and South America.
For the digital nomad, this book not only provides tips to travel cheaper and smarter, but also inspires a more sustainable, long-term approach to the nomadic lifestyle. It encourages us to see the world, not as a series of tourist destinations, but as a place of endless opportunities for cultural immersion and personal growth.
Memorable Quote: "When you travel, you are never alone."
GoodReads Score: 3.80/5
Tribes: We Need You to Lead Us — Seth Godin (2008)
Summary:
In Tribes, Seth Godin encourages readers to seek out their unique communities, or 'tribes,' and lead them towards making a meaningful difference.
Godin argues that the internet has made it easier than ever to connect with like-minded individuals worldwide, making this an ideal era for digital nomads. The book delves into the importance of leadership and how everyone, irrespective of their job title or societal role, can initiate change. By creating a community around common passions or goals, one can accomplish more than they could alone.
For digital nomads, this book offers an inspiring blueprint on how to build and lead a remote community, fostering connection, creativity, and impact on a global scale. "Tribes" is a call to action for those who want to create, innovate, and lead in the digital age.

Memorable Quote: "A tribe is a group of people connected to one another, connected to a leader, and connected to an idea. For millions of years, human beings have been part of one tribe or another. A group needs only two things to be a tribe: a shared interest and a way to communicate."
GoodReads Score: 3.81/5
Crush It!: Why NOW Is the Time to Cash In on Your Passion — Gary Vaynerchuk (2009)
Summary: Crush It! is a spirited guide for those seeking to turn their passions into a profitable career. Vaynerchuk emphasizes the transformative power of the internet, especially social media, in democratizing the business landscape.
This resource is a boon for digital nomads, as it illustrates how one can build a personal brand and monetize their passion from anywhere in the world. The book lays out practical steps on utilizing various online platforms effectively to engage with an audience and create valuable content.
Crush It! also addresses the importance of authenticity and hard work in building a successful online presence. For digital nomads aiming to create a sustainable online business aligned with their passion, Vaynerchuk's book is a motivating roadmap filled with real-world examples and actionable advice.
Memorable Quote: "Live your passion. What does that mean, anyway? It means that when you get up for work every morning, every single morning, you are pumped because you get to talk about or work with or do the thing that interests you the most in the world. You don't live for vacations because you don't need a break from what you're doing—working, playing, and relaxing are one and the same. You don't even pay attention to how many hours you're working because to you, it's not really work. You're making money, but you'd do whatever it is you're doing for free."
GoodReads Score: 3.87/5
The Personal MBA: Master the Art of Business — John Kaufman (2010)
Summary: The Personal MBA by Josh Kaufman is an invaluable resource for digital nomads looking to sharpen their business acumen without investing in a traditional MBA. This book distills essential business concepts into accessible, self-taught lessons, making it perfect for those seeking to start or manage a business while on the move. Kaufman covers a wide range of topics, including value creation, marketing, sales, finance, and management.
He dispels the myth that only an MBA can teach you how to succeed in business. Instead, he encourages independent learning and practical application of concepts.
For the nomadic entrepreneur seeking a deeper understanding of the mechanics of business or those contemplating a start-up, The Personal MBA offers a cost-effective and flexible alternative to conventional business education.
Memorable Quote: "You can't make positive discoveries that make your life better if you never try anything new."
GoodReads Score: 4.10/5
The Alchemist — Paulo Coelho (1988)
Summary: The Alchemist by Paulo Coelho is a classic, life-affirming tale that resonates deeply with digital nomads and travelers of all kinds. It's the story of a young Andalusian shepherd named Santiago who dreams of finding a worldly treasure.
The novel traces Santiago's journey across continents, guided by his personal legend and universal language that speaks of destiny and interconnectedness.
The book is more than a captivating adventure—it's an allegory that urges readers to listen to their hearts, recognize opportunity, and follow their dreams. The theme of pursuing one's personal legend aligns perfectly with the nomadic lifestyle.
Digital nomads, often on their own quest for personal fulfillment and freedom, can find solace and inspiration in Santiago's journey. "The Alchemist" is a poignant reminder that life's greatest treasures aren't always material, but often lie where your heart leads you.
Memorable Quote: "Remember that wherever your heart is, there you will find your treasure."
GoodReads Score: 3.90/5
The Epilogue: Books About Walking
In the end, each of these nomadic books serves as a window into the unique and ever-evolving world of the digital nomad. They offer practical tips, inspiration, and most importantly, the shared experiences of those who've navigated this nomadic path before. As you embark on or continue your digital nomad journey, let these words guide, comfort, and inspire you.
Safe travels and happy reading, fellow nomadic wanderers. And remember, the story of your own nomadic journey is yet another book waiting to be written.
What's your favorite digital nomad book? Let us know in the comments below.
You might also enjoy these related posts: