Are you a digital nomad on the hunt for an inspiring place to work in Iquitos? Here's everything you need to know about the best coworking spaces in Iquitos.
Whether you're looking for vibrant vibes and dedicated desks, or just a chill cafe with reliable Wi-Fi and plenty of coffee (the fuel of all productivity), this roundup has something to appeal to your inner content creator.
So clear off that laptop, grab your passport and some French Press coffee because it's time to start exploring the best work spaces for digital nomads in Iquitos!
Best Coworking Spaces in Iquitos
We have good news and bad news when it comes to finding coworking spaces in Iquitos.
Let's start with the bad: There are literally zero coworking spaces in Iquitos.
There are no coworking spaces in Iquitos because the city is still up-and-coming. It's a frontier city that is only now starting to develop its infrastructure and economy. As the city grows, so too will the demand for coworking spaces. In the meantime, there are plenty of cafes and restaurants where people can work from their laptops.
Coworking spaces are popular in more developed cities like Lima and Bogotá because there's a larger demand for them. But we're sure that as Iquitos develops, we'll see more coworking spaces popping up.
For now, the best option for remote workers is to find a cafe with good Wi-Fi.
With that said, here's the good news. We have a list of the top work spaces in the city which make a great backup plan. Let's get right into them!
DoubleTree by Hilton
Digital nomads looking for the perfect place to stay productive in Iquitos need look no further than DoubleTree by Hilton. This palatial haven is a trifecta of convenience, comfort and connectivity – making it an ideal spot from which to tackle any task. The cafe and restaurant is connected to the main lobby.
With high-speed Wi-Fi keeping you connected at all times, comfy chairs inviting relaxation between work sessions and desks bathed in natural light inspiring creativity, there's nothing like this gem away from home! It's one of the few work spaces in the city with air conditioning, offering respite against the scorching jungle heat. Plus the prices on the menu are very reasonable so your wallet won't take too hard a hit either.
In our humble opinions, this is the best spot to work from in Iquitos.
Tripadvisor Score: 4.5
Address: Jr. Napo 258 Frente a la Plaza de Armas, Iquitos 16001
Las Terrazas
Iquitos has a gem of café perfect for getting focused on your work! Las Terrazas offers the best environment with comfortable seating both indoors and out, air conditioning to beat the heat and even views of the river if you snag those coveted window seats. Even though it's usually fairly quiet here and ideal for productivity, its Wi-Fi speeds may let you down from time to time, so be sure bring along a reliable hotspot as backup.
Google Rating: 4.4
Address: 6QX4+WPV, Malecón Tarapaca &, Napo, Iquitos 16002
Ribera Café
Ribera Café in Iquitos offers a unique and cozy atmosphere along with delicious coffee made by friendly staff that are always eager to help. Despite being without air conditioning, it's still a great spot as the fans provide enough of breeze so you can stay productive during your visit. Its split hours make this an ideal destination for those who rise early, opening from 8 am to noon then again at 5 pm until 10 pm. Rest assured knowing that Ribera has everything needed for success!
Tripadvisor Score: 5.0
Address: Samanez Ocampo 507, Iquitos
Other Cafes and Working Spots in Cusco
Amazon Bistro
For those seeking inspiration without disruption, this retreat boasts comfortable seating amongst luscious garden views to stimulate creative though, plus friendly staff should you require assistance during your work session! As its both a restaurant and cafe, during peak lunch hours there can be quite the flurry of activity but finding your own nook shouldn't pose too much trouble. Just make sure to settle somewhere with ample air flow.
Address: Malecon Tarapaca 268, Iquitos 16000
La Mona Cafetería
Located a few blocks away from the hustle and bustle of the Plaza de Armas, La Mona Cafetería offers an atmosphere conducive to concentration with warm ambient lighting, both indoor and outdoor seating, plus helpful staff that provide plenty of refreshment options like healthy snacks or smoothies while you work. Opting to stay indoors? The back corner has your ideal respite—especially if heat isn't your thing—while outside tables offer a more dynamic street view.
Address: Calle Nauta 656 Entre la Calle Callao y la Calle Nanay, Iquitos 16000
Dawn On The Amazon Café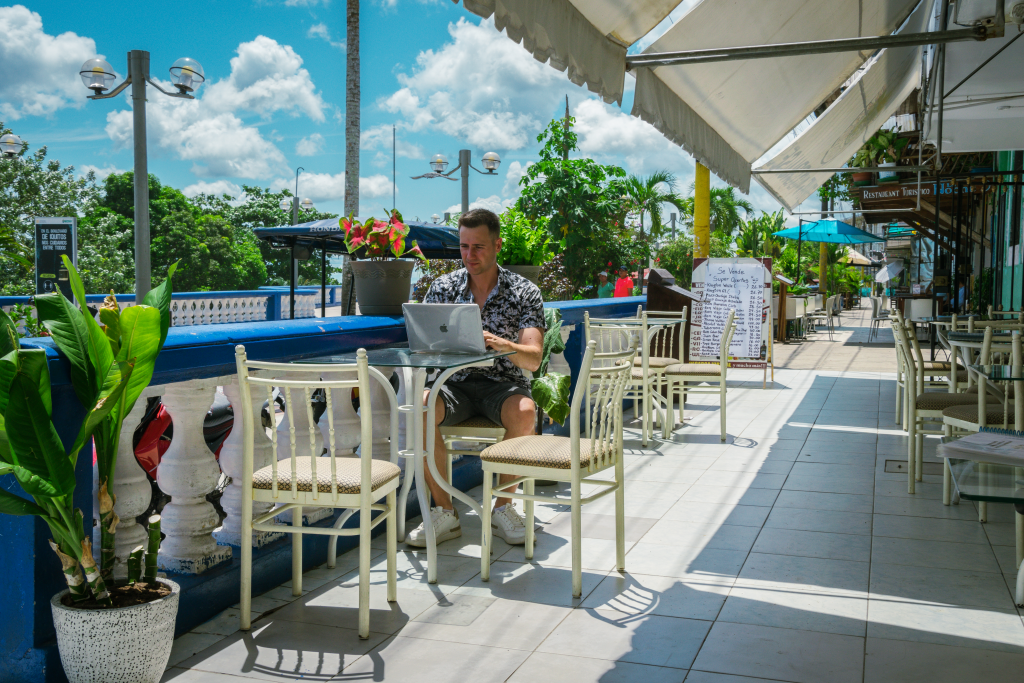 When you're looking for a place to take your digital nomad experience in Iquitos, Dawn on the Amazon Cafe is far from top of mind. But let's focus on its positives — it offers plentiful food and drink choices to sustain productivity while working amongst an idyllic backdrop along the malecón. However despite that beauty, this cafe isn't ideal when compared against other options as there are no air conditioning units nor decent Wi-Fi available. We'd recommend only stopping by here if needing a brief work session with lunch!
Address: Malecon Maldonado 185 Ref. Esquina con Calle Nauta Primera Cuadra Boulevard, Iquitos 16000
Imperium Cafeteria
Imperium Cafeteria's calm vibes, polite staff and abundant outlets help earn its way onto our list. They let you stay as long your heart desires, even if the heat gets stifling indoors at times. With its slow yet steady Wi-Fi connection and open air seating options outside, it's not a bad place to visit but it's far from our top pick.
Address: Jirón Putumayo 131, Iquitos 16002
Restaurante Fitzcarraldo
Despite having all the necessary amenities for a productive work session – good internet, great coffee and an air-conditioned section with views – Fitzcarraldo Restaurant has one major downfall: its internet codes expire every 15 minutes. If you can sort out a solution or if you have abundant data and prefer to hotspot, this is not a bad option.
Address: Calle Napo 100 Malecón Maldonado Boulevard, Iquitos 16000
Other Cafes and Working Spots in Iquitos
There are also a number of other cafes in the city that didn't quite make it into our top selections for digital nomad work spots. You can read more in our article covering the best cafes in the city.
Other cafes in Iquitos include:
Nonna Café
Maria's Cafe
Cafeteria Cafezinho (aka Cajuesiño Café)
Vanila Cafeteria
Pili Cafe
Oriental Cafe
Parting Words
All in all, Iquitos is an exciting destination for digital nomads who want a different and unique experience – but it's important to plan ahead to get the most out of your stay.
Every work space comes with its own set of pros and cons, and remember to keep in mind that as of now the city has no coworking spaces to work from.
But whether you're looking for a river view or a conveniently located desk, our list features the best that Iquitos has to offer.
We hope these options has helped you make the best decision when it comes to choosing a coworking space in Iquitos.
So now that you know where to share ideas, drink coffee and get some work done while enjoying the sounds of heavy rain, leave us a comment and let us know your favorite coworking space in Iquitos. We'll keep this list updated with time!
Originally Published: January 11, 2022
 ✍️ Iquitos, Peru
P.S. If you liked this article, you might also enjoy our other recommendations for Peru: