If you're looking for the perfect spot to set up shop on your next trip to Iquitos, look no further! The Peruvian city is a traveler's and digital nomad's dream come true. Scenic landscapes of jungles, rivers, and palm tress provide beautiful backdrops to work from your laptop, whether you're working on content creation, web development or something else entirely.
But it's not all about taking advantage of picturesque scenery – good cafes can be hard to find in new cities. This selection includes our picks for the best cafes in Iquitos that promise quality bean brews as well as reliable Wi-Fi so you don't miss out on any deadlines.
So take a break from hopping around attractions like Isla de los Monos or Mercado Belen and enjoy some time at one (or all) of these amazing locations meant specifically for digital nomads and flaneurs looking for an exceptional experience!
The Criteria: What Makes a Good Cafe in Iquitos?
As slow traveling entrepreneurs, we spend at least 9 hours per day (and often much longer) on our laptops even while abroad, and so are always on the lookout for great coffee shops to mix up work environments.
For these reviews of the best cafes in Iquitos, we took the following criteria into consideration:
Fast, reliable Wi-Fi
Air conditioning (imperative in this hot climate)
Comfortable seating and tables suitable for working
Outlets available for charging devices
A unique environment with a pleasant ambience
Natural lighting
Good coffee
Note: All scores and ratings in this article are relative to other locations in Iquitos, not worldwide. The Wi-Fi in general is quite slow in the city so any time you find something workable, it automatically gets a higher score. This is all reflected using the following criteria.
Wi-Fi Score
Wi-Fi speeds were measured in each location and given a score according to this scale:
1 = Unworkable (< 1 Mbps upload/download)
2 = Very slow (< 2 Mbps upload/download)
3 = Mediocre (3-5 Mbps upload/download)
4 = Good (> 5 Mbps upload/download)
5 = Fast (> 10 Mbps upload/download)
Best Cafes in Iquitos for Working
Making Iquitos your temporary remote office? Then you need to find the perfect cafe for all of those hours in front of a laptop.
Don't rely on Tripadvisor alone. After 4 weeks spent checking out the scene, we've uncovered some hidden gems and real treasures that are nowhere to be found on the site. We've also found some of the most highly rated to have terrible conditions for digital nomads.
When working in the city, don't forget that many cafes work split-shifts, opening at 8 or 9 am then closing from noon until 5 pm only to reopen again in late afternoon.
Lucky for you, our top picks make it easy as pie to become an urban digital nomad and get down do business without having any interruptions like false alarms by travel site. So take note, because here are the best local hotspots when looking for workspaces 'round these parts.
DoubleTree by Hilton
The DoubleTree by Hilton in Iquitos is by far the best place in the city for digital nomads to get work done.
The hotel has a cafe and restaurant in the back of the lobby that has the fastest and most reliable Wi-Fi the city has to offer, which is perfect for those who need to stay connected while on the go.
The chairs are comfortable, there are desks to work from, and the interior is grandiose and inspiring. Additionally, there is a lot of natural light, which is ideal for working. It's the closest thing to coworking space in Iquitos.
The menu prices in the restaurant are quite reasonable, and we paid 12 soles for a cappuccino. It's a bonus that the air conditioning is nice and cool so that you can escape the scorching heat.
So if you're looking for a place to stay in Iquitos that offers both great Wi-Fi and all the amenities you need, be sure to check out the DoubleTree by Hilton. It's our #1 pick for digital nomads in the city.
Tripadvisor Score: 4.5
Address: Jr. Napo 258 Frente a la Plaza de Armas, Iquitos 16001
Las Terrazas
If you're looking for a great spot to get some work done in Iquitos, Las Terrazas is a great option. The cafe has good coffee, air conditioning, and plenty of seating options both inside and out. It's also usually pretty quiet, which makes it a great place to focus on your work.
If you can get the window seats with a view of the river, we recommend them!
Despite this being one of the best environments for working in the city, the Wi-Fi clocked in at some pretty abysmal speeds. Prepare your hotspot as backup if you opt to work here and don't count on the internet for meetings or video calls.
Google Rating: 4.4
Address: 6QX4+WPV, Malecón Tarapaca &, Napo, Iquitos 16002
Ribera Café
Ribera Café is one of the best cafes in Iquitos for digital nomads to get work done because it offers delicious coffee, a unique environment, and friendly staff. The coffee is some of the best in town, and the café has a relaxed atmosphere that is perfect for getting work done. The staff are always happy to help, and they make sure that everyone has everything they need to be productive.
Although there's no air conditioning, grab one of the seats with a fan and you'll be all set.
When visiting this cafe, be sure to plan accordingly. It opens from 8 am to noon, then closes midday until 5 where it reopens until 10 pm. It's great if you're an early riser and can get most of your work done in a 4 hour sesh!
Tripadvisor Score: 5.0
Address: Samanez Ocampo 507, Iquitos
Amazon Bistro
If you're looking for a great place to get work done in Iquitos, Amazon Bistro is a solid choice. It offers a variety of seating options, from comfortable armchairs to private booths, and it has a beautiful garden view that's perfect for getting lost in your work. Plus, the staff is always friendly and happy to help with anything you need.
The place does tend to get quite busy during the lunch hours as it's technically more of a restaurant then a cafe, but since it's so large there is usually no trouble finding a good spot to set up shop. Just keep in mind that there is no air conditioning, so we found it best to sit where there was air flow.
If you're looking for a productive place to hang out in Iquitos, Amazon is definitely worth checking out.
Tripadvisor Score: 4.0
Address: Malecon Tarapaca 268, Iquitos 16000
La Mona Cafetería
La Mona Cafetería is one of the best cafes in Iquitos for digital nomads to get work done because it has indoor and outdoor seating, fans, and good internet service (at least for the city).
The cafe is located in a quiet neighborhood, making it a great place to focus on your work. Additionally, the staff is friendly and helpful, and they offer a variety of healthy snacks and smoothies to choose from.
The best seat in the house tends to be in the back corner where the fan is, but the seating out front allows for a more lively view of the city and passersby for anyone who's into people watching during their break time. If you can't take the heat, however, we would recommend one of the options on this list with air conditioning.
Tripadvisor Score: 4.5
Address: Calle Nauta 656 Entre la Calle Callao y la Calle Nanay, Iquitos 16000
Dawn On The Amazon Café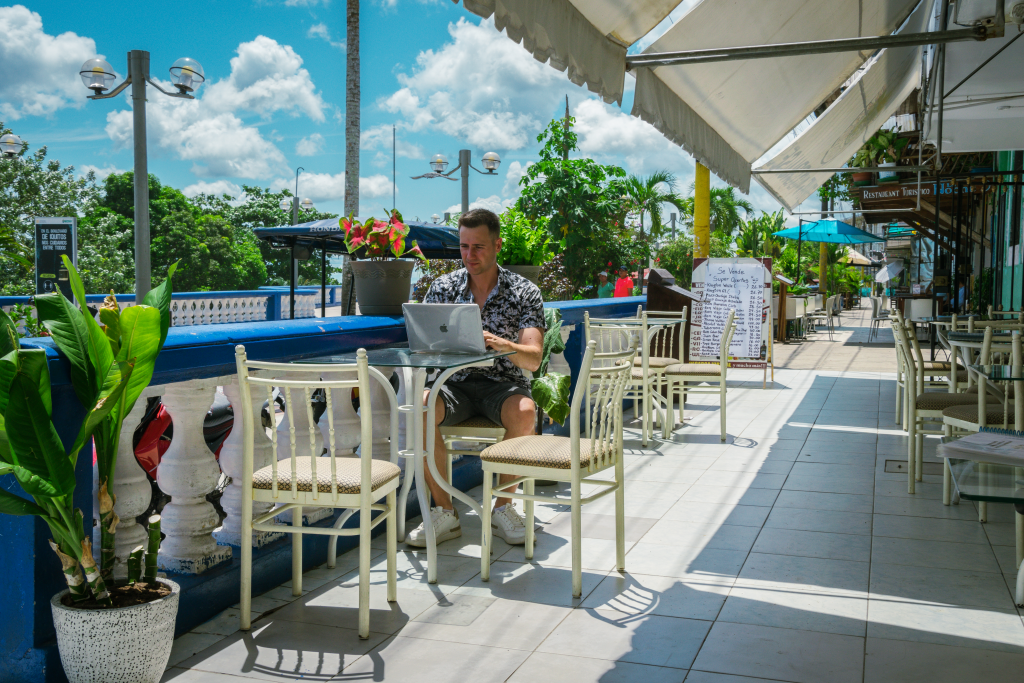 Dawn on the Amazon Café is another option for digital nomads to get work done in Iquitos, though it's far from our first choice.
But let's start with the positives.
The cafe has a wide variety of food and drink options, so you can stay fueled up while you work. And if you need a break from your laptop, the malecón in front is the perfect place to relax and take in the beautiful scenery.
Despite that, however, there are a few things that make this cafe non-ideal for working compared to some of the other options on this list. There's no air conditioning, so you're forced to choose between outdoor seating directly in the hot sun or indoor seating that feels like a sauna. On top of this, the Wi-Fi speeds are pretty dismal.
All in all, we'd recommend resorting to this cafe only for a short work session while eating lunch or in the late afternoon when the heat has died down.
Tripadvisor Score: 4.5
Address: Malecon Maldonado 185 Ref. Esquina con Calle Nauta Primera Cuadra Boulevard, Iquitos 16000
Imperium Cafeteria
Imperium Cafeteria rounds off our list of the best cafes in Iquitos for digital nomads to get work done because it has a calm and productive atmosphere. The cafe offers both Wi-Fi, albeit slow, and various power outlets. The staff is also polite and accommodating.
You can opt to work outdoors on the sidewalk or indoors at the tables, though there are no outlets in front.
Overall, the Wi-Fi is fairly slow and the work atmosphere tends to get quite hot and stuffy so it's not the most ideal spot for working long hours.
Google Ratings: 4.3
Address: Jirón Putumayo 131, Iquitos 16002
Other Cafes and Working Spots in Iquitos
Restaurante Fitzcarraldo
This restaurant on the corner by the malecón is actually not a bad option if you don't mind one (quite major) inconvenience.
Despite having decent internet, good coffee and a nice, cool air conditioned section with a view, their internet is only accessible by a code they give to patrons. The bad news? The codes expire every 15 minutes. So to actually be productive here, you need to ask the waiter for a pile of codes and constantly reconnect.
If they fixed this, it would be one of our top picks in the city.
Address: Calle Napo 100 Malecón Maldonado Boulevard, Iquitos 16000
Nonna Café
Nonna Café is a decent choice of cafe in Iquitos for digital nomads to get work done, but it didn't make our top picks because of its split hours and noisy location. You can visit this cafe from 7:30 am until 1  pm, then again from 3:30 to 10:30 pm.
Address: Prospero 273 Una Cuadra Antes de la Plaza de Armas, Iquitos 16000
Maria's Cafe
Maria's Cafe is a great option close to the Plaza de Armas if you don't mind split hours. It's nice and tranquil and often times you'll have the whole place to yourself. It's open from 7:30 am to 12:30 pm, then again from 5 to 9 pm.
Address: Jr. Nauta #292, Iquitos 16002
Cafeteria Cafezinho (aka Cajuesiño Café)
Another option across the road from Maria's Cafe is Cafeteria Cafezinho. It also operates on a split schedule, opening from 8 to 11 am, then from 4 to 10 pm. They've got good coffee, friendly staff, and decent Wi-Fi!
Address: Jirón Fitzcarrald 191, Iquitos 16002
Vanila Cafeteria
Vanila Cafeteria is a small neighborhood coffee shop and bakery that might make sense as a work location if you're staying nearby and need a convenient place to work. It's open 8 to 11:30 am, then from 4 to 9 pm.
Address: Napo 552, Maynas, Iquitos 16002
Pili Cafe
Pili Cafe is a family-owned coffee shop nearby Plaza 28 De Julio. If you're staying in the area, it's not a bad option to get some work done without making the journey to the Plaza de Armas.
Address: Jr. 2 de Mayo 657, Iquitos 16002
Oriental Cafe
Oriental Cafe has two locations in the city, and is more of a bakery. That being said, they do have Wi-Fi and upstairs seating so if it's convenient for you then feel free to give it a try.
Address 1: Bermudez 425, Iquitos 16001
Address 2: Sgto. Lores 801, Iquitos 16001
Parting Words
So if you're looking to join the trend of digital nomads and flaneurs in Iquitos, time your visit with some of these must-visit cafes!
Immerse yourself in the culture, relax and contemplate life and enjoy a cappuccino or a local favorite. These cafes can serve as home away from home, allowing you to connect with nature and locals, sharing stories and laughter during your stay. Most importantly, treat them as you would treat any cafe — with respect for their establishment and community. Do that, and who knows? Maybe one day soon you'll find yourself lost in the tranquility of the Amazonian jungle at one of the oldest cafes surrounded by friendly old-timers.
Leave us a comment and let us know what inspiring cafes have had an impact on your digital nomad adventures. We'd love to hear it!
Originally Published: January 11, 2022
 ✍️ Iquitos, Peru
P.S. If you liked this article, you might also enjoy our other recommendations for Peru: