Are you ready for a curated list of the best copywriting books?
Every aspiring copywriter knows that mastering the art of words is a journey that goes beyond just pen and paper.
It's about delving deep into the intricacies of language, understanding the psychology of the reader, and honing the craft to a point where words can truly shape perceptions and drive actions.
This list of books offers guidance from experts who have sculpted worlds and forged connections through the power of words. They provide the kind of insight that can propel you from a novice writer to a master wordsmith.
Whether you're just embarking on your copywriting journey, or looking to elevate your existing skills to new heights, there's something here to guide, inspire, and nurture your talent.
So grab a comfy seat and a cup of your favorite beverage, as we unravel the treasury of knowledge contained in the best copywriting books designed to shape you into a skilled artisan of words.
Let's dive in.
Best Copywriting Books
Make it simple. Make it memorable. Make it inviting to look at. Make it fun to read.

Leo Burnett
Influence: The Psychology of Persuasion — Robert B. Cialdini (1984)
Summary: In Influence, Robert B. Cialdini unveils the science of why people say "yes," presenting six principles of persuasion that are vital for copywriters to master: reciprocity, commitment and consistency, social proof, authority, liking, and scarcity.
Cialdini uses captivating case studies to furnish readers with the knowledge to wield these principles ethically in their writing, and to shield themselves against manipulative tactics. Aspiring copywriters will find this book to be an indispensable guide, arming them with the tools to craft resonant and compelling content that guides audiences to take the desired actions without compromising on integrity.
This book stands as a timeless guide in navigating the dynamic landscape of copywriting with mastery and ethical soundness.
Memorable Quote: "People seem to be more motivated by the thought of losing something than by the thought of gaining something of equal value."
GoodReads Score: 4.21/5
All Marketers Are Liars: The Power of Telling Authentic Stories in a Low-Trust World — Seth Godin (2005)
Summary: In All Marketers Are Liars, Seth Godin unlocks the secret to marketing that truly resonates. He delves into the potency of storytelling, urging marketers to ditch the stale, traditional advertising strategies and instead, to craft compelling narratives that echo the worldview of the targeted audience.
Godin emphasizes that authentic storytelling isn't about fabricating tales but harnessing the power of truth to weave narratives that ring true and appeal emotionally. By aligning products and services with stories that consumers willingly wish to believe, marketers can foster loyalty and enhance the chance of success.
As an aspiring copywriter, this book will arm you with the skills to craft resonant stories that not only sell but forge strong bonds with consumers, in a world skeptical of the classic sales pitch. It's a must-read to master the art of genuine and persuasive storytelling in marketing.
Memorable Quote: "We drink the can, not the beverage."
GoodReads Score: 3.88/5
Getting Everything You Can Out of All You've Got: 21 Ways You Can Out-Think, Out-Perform, and Out-Earn the Competition — Jay Abraham (2000)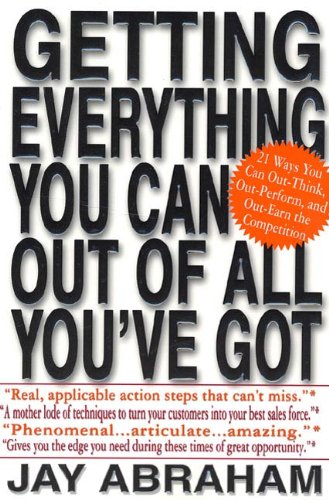 Summary: Getting Everything You Can Out of All You've Got is Jay Abraham's insights into transforming business opportunities into tangible success. The book serves as a roadmap to unveiling your unique selling proposition, leveraging your resources to their fullest potential, and identifying the untapped assets and hidden opportunities that lie within your reach.
Abraham, a renowned marketing consultant, guides readers on a journey of self-assessment, encouraging them to think differently and break free from conventional thinking. He showcases strategies for standing out in a crowded marketplace and ensuring business growth through innovative approaches to problems.
For budding copywriters, this book offers a treasure trove of wisdom on optimizing existing resources and capabilities to craft copy that not only sells but deeply connects with the audience. It's a guide to thriving in the competitive world of copywriting with creativity and innovation at your helm.
Memorable Quote: "The man who goes to a hardware store to buy a power drill doesn't really need a drill—he needs holes."
GoodReads Score: 3.95/5
Ogilvy on Advertising — David Ogilvy (1983)
Summary: David Ogilvy is often referred to as the "Father of Advertising." In Ogilvy on Advertising, he provides an intimate look into the world of advertising with unmatched candor and wisdom. Drawing from his illustrious career, Ogilvy delves into what works, what doesn't, and why in the realm of advertising.
The book is a masterclass in the art of persuasion, shedding light on the essentials of crafting compelling campaigns, the importance of research, and the ever-evolving nature of consumer behavior. Ogilvy's straightforward advice and timeless principles are punctuated with captivating anecdotes and iconic ad campaigns.
For aspiring copywriters, this is an indispensable read. It encapsulates the foundational principles of effective copywriting while challenging readers to consistently strive for excellence in their craft. With Ogilvy's guidance, you learn to navigate the advertising world with confidence and creativity.
Memorable Quote: "Some copywriters write tricky headlines – double meanings, puns and other obscurities. This is counter-productive. In the average newspaper your headline has to compete with 350 others. Readers travel fast through this jungle. Your headline should telegraph what you want to say."
GoodReads Score: 4.14/5
The Copywriter's Handbook: A Step-By-Step Guide to Writing Copy That Sells — Robert W. Bly (1985)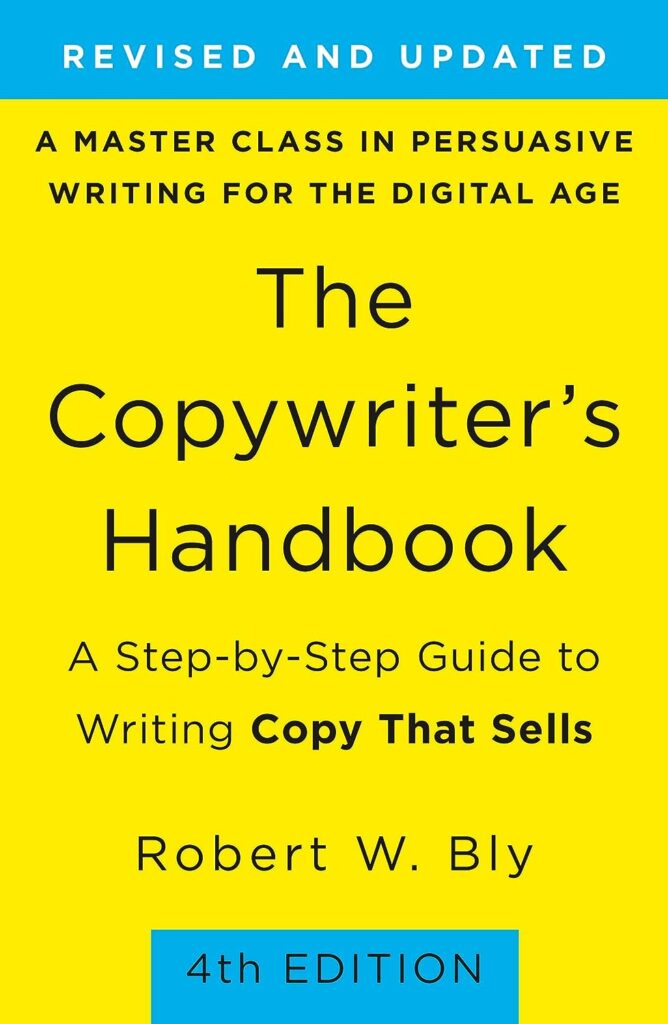 Summary: In The Copywriter's Handbook, Robert W. Bly offers an exhaustive, step-by-step guide to the intricate world of copywriting. This seminal work is often seen as the go-to manual for writers aiming to craft persuasive, compelling copy that genuinely resonates with its audience.
Bly dives deep into the nuts and bolts of the trade, elucidating the principles of writing headlines, constructing direct mail campaigns, and creating captivating web content. He underscores the importance of clarity, simplicity, and authenticity, presenting tried-and-true techniques to ensure copy doesn't just sell, but tells a powerful story.
For budding copywriters, this handbook is akin to a treasure map. It charts the landscape of effective copywriting with precision, ensuring that every word penned is purposeful, impactful, and, most crucially, sells.
Memorable Quote: "The words in your copy should be like the windows in a storefront. The reader should be able to see right through them and see the product."
GoodReads Score: 3.92/5
On Writing: A Memoir of the Craft — Stephen King (2000)
Summary: Stephen King, the master of horror fiction, offers a deeply personal look into his life and his writing process in On Writing: A Memoir of the Craft. This book, while not strictly about copywriting, is a goldmine for anyone serious about the art of crafting words.
King dives into his own journey, revealing the hardships, successes, and lessons learned along the way. Beyond just a memoir, he provides invaluable advice on the mechanics of writing, emphasizing the importance of dedication, consistency, and honing one's craft. He delves into the nuances of language, constructing plot, and building characters with authenticity.
For copywriters, King's insights serve as a powerful reminder of the passion and tenacity required in the world of writing. On Writing inspires, teaches, and reaffirms the timeless truth that great writing, regardless of the medium, stems from an intricate blend of skill, love, and relentless pursuit of excellence.
Memorable Quote: "Description begins in the writer's imagination, but should finish in the reader's."
GoodReads Score: 4.33/5
Story Driven: You Don't Need to Compete When You Know Who You Are — Bernadette Jiwa (2018)
Summary: In Story Driven, Bernadette Jiwa champions the notion that storytelling is pivotal in setting brands apart in a saturated market. She urges businesses to tap into their unique narratives rather than succumbing to the noise of competition.
Jiwa posits that authenticity is the cornerstone of impactful marketing and emphasizes the need for brands to cultivate genuine connections with their audiences. Drawing from real-world examples, she showcases how companies with a clear sense of purpose and identity are the ones that stand out and thrive.
For budding copywriters, Story Driven serves as a call to approach marketing from a place of authenticity. It underscores the power of a well-told story, reminding us that in the world of writing, genuineness and purpose always resonate deeply with audiences.

Memorable Quote: "Before you write a line of code or a word of copy, before you apply for that promotion or plan your growth strategy, and before you create your next marketing campaign or send that sales email, you need to understand what's driving your story. Where are the roots that will enable you to grow healthy branches that bear fruit? How will you show, not just tell? What promises are you intending to keep?"
GoodReads Score: 3.86/5
My Life in Advertising and Scientific Advertising — Claude C. Hopkins (1923)
Summary: My Life in Advertising and Scientific Advertising is Claude C. Hopkins' enlightening dive into the early days of advertising, drawing from his illustrious career. He delves into his experiences, successes, and missteps, providing readers a rare glimpse into the advertising world of the early 20th century.
Hopkins emphasizes the importance of data-driven decisions, long before the digital age made it a norm. He presents advertising as a science, advocating for meticulous testing and refinement to understand what truly resonates with audiences.
For modern copywriters, this dual-volume work is not just a history lesson but also a masterclass in fundamental principles. Despite being written almost a century ago, Hopkins's insights on consumer psychology and the art of persuasion remain as relevant today as they were back then, underscoring the timeless nature of effective advertising.
Memorable Quote: "Again that limelights a principle in advertising. People are like sheep. They cannot judge values, nor can you and I. We judge things largely by others' impressions, by popular favor. We go with the crowd. So the most effective thing I have ever found in advertising is the trend of the crowd. That is a factor not to be overlooked."
GoodReads Score: 4.24/5
The Boron Letters — Gary Halbert (2010)
Summary: Gary Halbert is often revered as one of the world's greatest copywriters. The Boron Letters is a series of candid and insightful letters penned to his son from the confines of Boron prison. While they initially served as fatherly advice, they've become foundational texts for marketers everywhere.
Through these letters, Halbert unravels the intricacies of direct mail advertising, all the while emphasizing the power of human connection and genuine storytelling. He touches on topics ranging from daily routines to the psychology behind successful sales pitches, offering a holistic view on mastering the craft of copywriting.
More than just a guide to good copy, The Boron Letters is an intimate journey into the mind of a marketing genius. Halbert's down-to-earth style, combined with his invaluable advice, makes this collection an essential read for both aspiring and seasoned copywriters. It's a testament to the enduring principles of persuasive writing and the importance of authentic engagement.
Memorable Quote: "Get yourself a collection of good ads and DM pieces and read them aloud and copy them in your own handwriting."
GoodReads Score: 4.20/5
Storyworthy: Engage, Teach, Persuade, and Change Your Life through the Power of Storytelling — Matthew Dix (2018)
Summary: In Storyworthy, Matthew Dicks delves deep into the art and science of storytelling, highlighting its pivotal role in captivating audiences, educating listeners, and compelling action. Dicks, an award-winning storyteller himself, believes everyone has a tale to tell and is on a mission to guide others in honing this craft.
Drawing from his own experiences and techniques, he furnishes readers with practical exercises and tips on sourcing and sculpting compelling narratives from everyday encounters. Dicks underscores the importance of vulnerability, emotion, and authenticity in making any story resonate.
Ideal for marketers, teachers, leaders, and anyone with a message to convey, Storyworthy doesn't just make you a better storyteller—it illuminates the profound impact a well-spun tale can have. Dicks' approach reminds us that, in a world overwhelmed with data and facts, it's still our stories that have the power to move hearts and minds.
Memorable Quote: "Your story must reflect change over time. A story cannot simply be a series of remarkable events. You must start out as one version of yourself and end as something new."
GoodReads Score: 4.28/5
Cashvertising — Drew Eric Whitman (2008)
Summary: In Cashvertising, Drew Eric Whitman pulls back the curtain on the triggers that drive human behavior, providing invaluable insight for anyone looking to influence, persuade, or sell. Dubbed a crash course on consumer psychology, this book unpacks the innate desires and drivers behind why people buy.
Whitman, drawing from decades in the advertising industry, condenses proven tactics and psychological principles into bite-sized lessons. He reveals the techniques used by successful brands to tap into consumers' deepest wants, ensuring their messages not only capture attention but drive action.
For copywriters and marketers, Cashvertising is a goldmine. It's not just about writing words that sell, but understanding the underlying motivations that compel people to act. Whitman's teachings emphasize that understanding the human psyche is key to crafting irresistible ad campaigns. This is a must-read for those seeking to elevate their advertising game in today's saturated market.
Memorable Quote: "Advertising is a subset of communication. Sales is a subset of advertising. Persuasion is a subset of sales. And psychology is a subset of persuasion."
GoodReads Score: 4.36/5
Writing Tools: 50 Essential Strategies for Every Writer — Roy Peter Clark (2006)
Summary: In Writing Tools: 50 Essential Strategies for Every Writer, Roy Peter Clark offers a masterclass on the art and craft of writing. Breaking down the process into 50 clear-cut techniques, Clark addresses the nuances of language, sentence construction, and narrative flow.
More than just grammar and syntax, Clark delves deep into the strategies that elevate writing from mere words on a page to a compelling story or persuasive message. His insights span from the structural level, such as organizing sentences and paragraphs, to the stylistic, like adding flair to prose.
Any aspiring copywriter will find this guide invaluable, as Clark showcases the versatility and power of well-chosen words. Writing Tools is not just a handbook, but a mentor in book form, aiding writers in navigating the intricacies of crafting compelling copy that connects and convinces.
Memorable Quote: "Everyone should read, we say, but we act as if only those with special talent should write."
GoodReads Score: 4.18/5
The 22 Immutable Laws of Marketing: Violate Them at Your Own Risk — Al Ries, Jack Trout (1993)
Summary: Al Ries and Jack Trout lay out a definitive set of principles in The 22 Immutable Laws of Marketing that have stood the test of time in the fast-paced world of marketing. These laws, encompassing both strategy and human psychology, offer a roadmap to navigate the competitive landscape.
Ries and Trout, seasoned experts in positioning and branding, emphasize the dangers of disregarding these laws, highlighting real-world examples of successes and pitfalls. Their lessons range from the power of being first in a consumer's mind to the perils of line extension.
Aspiring copywriters and marketers will discover the profound wisdom behind each law, gaining an edge in crafting campaigns that resonate. This book underscores the timeless nature of marketing truths, proving that while tactics evolve, certain principles remain unshaken. Dive into these laws, and arm yourself with strategies that ensure your message stands out in an ever-crowded marketplace.
Memorable Quote: "Marketing is a battle of perceptions, not products."
GoodReads Score: 4.06/5
Tested Advertising Methods (5th Edition) — John Caples (1980)
Summary: John Caples provides an invaluable guide in Tested Advertising Methods, grounded in empirical results, ensuring copywriters craft messages that truly convert. A classic in advertising literature, Caples emphasizes the power of direct-response marketing, showcasing techniques that have been proven to elicit reactions.
Drawing on a vast collection of successful ads, he deconstructs what makes them effective, presenting principles that remain as relevant today as they were decades ago. From compelling headlines to persuasive body copy, Caples champions clarity, simplicity, and genuine appeals to human emotion.
For those eager to understand the science behind potent advertising, this book is a treasure trove. Tested Advertising Methods equips writers with tools to not only capture attention but also drive action, ensuring every campaign makes a lasting impact. Dive in, and discover the time-honored techniques that continue to shape the world of copywriting.
Memorable Quote: "If you use a poor headline, it does not matter how hard you labor over your copy because your copy will not be read."
GoodReads Score: 4.23/5
The Ultimate Sales Letter: Attract New Customers. Boost Your Sales — Dan Kennedy (1994)
Summary: In The Ultimate Sales Letter, Dan Kennedy offers invaluable insights into crafting persuasive sales letters that resonate and drive action. He emphasizes understanding your audience's needs and positioning your product or service as the ideal solution.
Kennedy's approach isn't merely about writing; it's a deep dive into the psychology of persuasion. He shares tactics to make your letters compelling, infusing them with a sense of urgency and relevance.
For those navigating the world of copywriting, this book is a goldmine. From rookies to veterans, it's a guide to creating copy that doesn't just inform, but actively sells. Dive into Kennedy's world and transform your sales letters from good to unparalleled.
Memorable Quote: "Always enter the conversation already occurring in the customer's mind."
GoodReads Score: 4.17/5
Words that Sell — Richard Bayan (1987)
Summary: In Words that Sell, Richard Bayan provides a comprehensive arsenal of persuasive words and phrases to supercharge your copywriting. Bayan's compilation is more than just a thesaurus for marketers, it's a guide that emphasizes the power of the right word in the right context.
Through this insightful resource, Bayan illustrates how specific words can evoke emotions, drive decisions, and influence behavior. From headlines to call-to-actions, he provides alternatives that can make your copy pop and resonate with readers.
For copywriters eager to refine their craft, Words that Sell is an essential desk companion. Bayan's expertise will empower you to select words with precision, ensuring your copy leaves a memorable impact on your audience.
Memorable Quote: "The copywriter uses words as tools to persuade and motivate an audience. You persuade your readers that you have something valuable to offer; you motivate them to acquire it for themselves. This is the essence of effective copywriting."
GoodReads Score: 4.03/5
Breakthrough Advertising — Eugene Schwartz (1966)
Summary: Eugene Schwartz's Breakthrough Advertising is a deep dive into the psychology of effective ad campaigns. It's not merely a guide on crafting catchy phrases, Schwartz underscores the importance of understanding your audience's desires and how to speak directly to them.
Schwartz delves into the intricacies of market sophistication, revealing the stages consumers go through and how to tailor your message accordingly. He presents a blueprint for creating compelling copy that resonates, regardless of the medium.
A must-read for serious copywriters, Breakthrough Advertising transcends eras. Its teachings, even from the 1960s, remain invaluable in today's fast-paced digital landscape. Schwartz's wisdom will sharpen your copywriting acumen, propelling you to create ads that truly connect and convert.
Memorable Quote: "This is the copywriter's task: not to create mass desire, but to channel and direct it."
GoodReads Score: 4.53/5
The Epilogue: Books About Copywriting
Each book we've highlighted serves as a reliable guide, helping aspiring writers navigate the often complex world of copywriting.
They provide more than just tips and strategies, they offer insights into the thoughts and experiences of those who have successfully navigated the industry before.
As you begin or continue your journey in copywriting, keep these valuable resources at hand to steer you towards success.
Within you lies a prolific copywriter ready to pen down copy that can change the world.
What's your favorite copywriting book? Is there a hidden gem we missed? Let us know in the comments below.
You might also enjoy these related posts:
Originally Published: September 11, 2023