If there's one thing that can make travel even more fun, it's doing it with your friends. And what better way to get inspired for your next trip than by reading some great quotes about traveling with buddies? From memorable moments to crazy adventures, these quotes will have you ready to take on the world with your closest friends by your side. So gather up your squad and check out these 50 inspiring quotes about traveling with friends!
Quotes About Travel With Friends
Happy is the soul that has a friend. Happier is the soul that trusts in the truth of the heart of a friend. Happiest is the soul that knows the solemnity of friendship and honours its laws.

Ogwo David Emenike
Good company in a journey makes the way seem shorter.

Izaak Walton
There is an unspoken bond you create with the friends you travel with.

Kristen Sarah
Wherever it is you may be, it is your friends who make your world.

Chris Bradford
True friends will always push you towards the great possibilities of your future, false friends will always chain you to the mistakes in your past.

Seth Brown
As soon as I saw you, I knew a grand adventure was about to happen.

Winnie The Pooh
No road is long with good company.

Turkish proverb
A friend may be waiting behind a stranger's face.

Maya Angelou
Friendship is the golden thread that ties the heart of all the world.

John Evelyn
Don't walk in front of me… I may not follow. Don't walk behind me… I may not lead. Walk beside me… just be my friend.

Albert Camus
It is one of the blessings of old friends that you can afford to be stupid with them.

Ralph Waldo Emerson
Ten minutes with a genuine friend is better than years spent with anyone less.

Crystal Woods
Friendship is the only cement that will ever hold the world together.

Woodrow T. Wilson
If you have two friends in your lifetime, you're lucky. If you have one good friend, you're more than lucky.

S.E. Hinton
One of the great things about travel is that you find out how many good, kind people there are.

Edith Wharton
There's not a word yet for old friends who've just met.

Jim Henson
The struggles we endure today will be the 'good old days' we laugh about tomorrow.

Aaron Lauritsen
Tourists don't know where they've been, travelers don't know where they're going.

Paul Theroux
Life is partly what we make it, and partly what it is made by the friends we choose.

Tehyi Hsieh
Live life with no excuses, travel with no regret.

Oscar Wilde
The most beautiful thing in the world is, of course, the world itself.

Wallace Stevens
True friends never apart maybe in distance never in heart.

Helen Keller
Will you come travel with me? Shall we stick by each other as long as we live?

Walt Whitman
I have found out that there ain't no surer way to find out whether you like people or hate them than to travel with them.

Mark Twain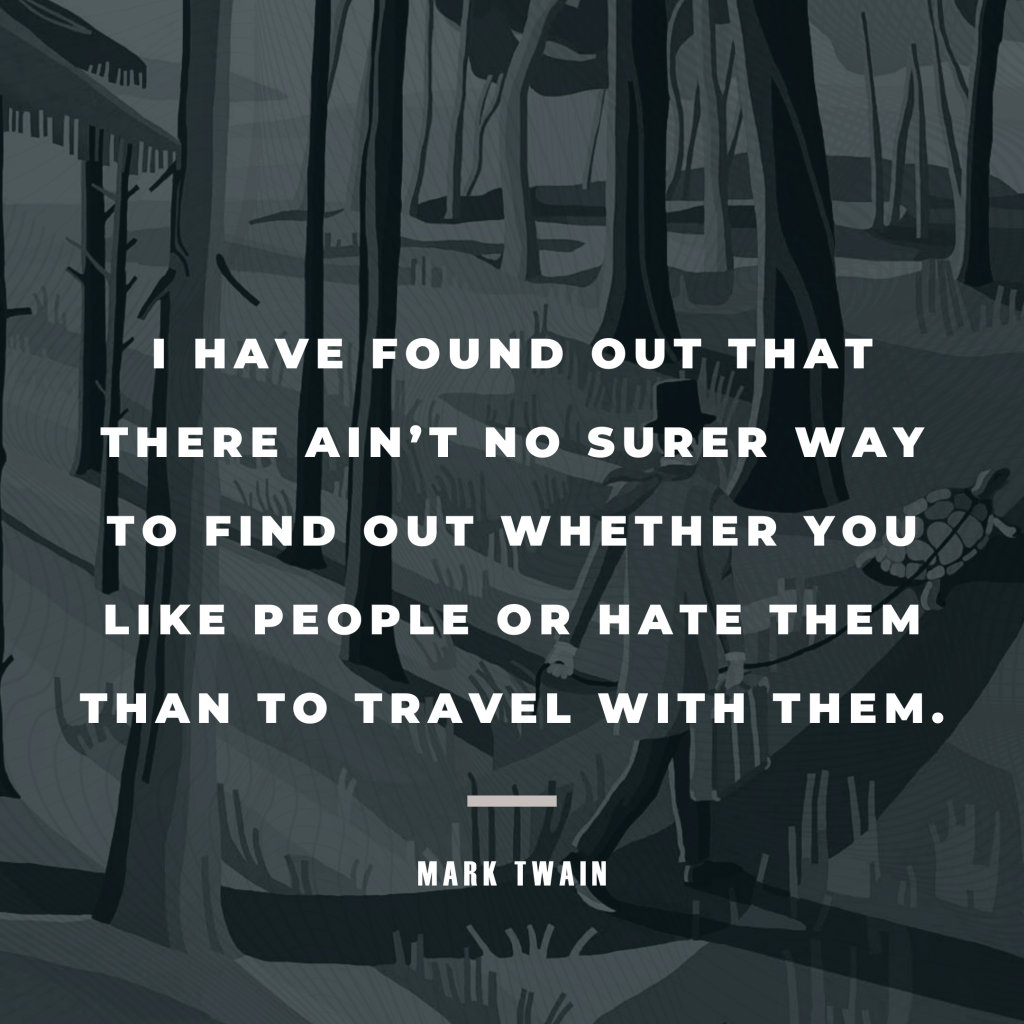 An acquaintance merely enjoys your company, a fair-weather companion flatters when all is well, a true friend has your best interests at heart, and the pluck to tell you what you need to hear.

E.A. Bucchianeri
Good friends follow you anywhere.

Winnie the Pooh
Wherever you go, go with all your heart!

Confucius
We are all travelers in the wilderness of the world, and the best we can find in our travels is an honest friend.

Robert Louis Stevenson
Travel is fatal to prejudice, bigotry, and narrow-mindedness.

Mark Twain
A journey is best measured in friends, rather than miles.

Tim Cahill
Perhaps travel cannot prevent bigotry, but by demonstrating that all peoples cry, laugh, eat, worry, and die, it can introduce the idea that if we try and understand each other, we may even become friends.

Maya Angelou
Travel isn't always pretty. It isn't always comfortable. Sometimes it hurts, it even breaks your heart. But that's okay. The journey changes you; it should change you. It leaves marks on your memory, on your consciousness, on your heart, and on your body. You take something with you. Hopefully, you leave something good behind.

Anthony Bourdain
Each friend represents a world in us, a world possibly not born until they arrive, and it is only by this meeting that a new world is born.

Anais Nin
Don't tell me the sky's the limit when there are footprints on the moon.

Paul Brandt
Discovery consists not in seeking new landscapes, but in having new eyes.

Marcel Proust
What we find in a soul mate is not something wild to tame, but something wild to run with.

Robert Brault
If you want to go fast, go alone. If you want to go further, go together.

African proverb
Many people will walk in and out of your life, but only true friends will leave footprints in your heart.

Eleanor Roosevelt
A true best friend may get you into trouble, but they will always be there to pull you out of it too.

Kaylee Stepkoski
Find a group of people who challenge and inspire you; spend a lot of time with them, and it will change your life.

Amy Poehler
When you get lost in a really strange place, nothing is more comforting than finding your friend whom you trust and can show the way.

Toba Beta
Anyone can have a friend, but the one that would walk in a storm to find you is all you will ever need.

Shannon L. Alder
Sometimes all you need is a great friend and a tank of gas.

Thelma and Louise
In life, it's not where you go, it's who you travel with.

Charles M. Schulz
The more I traveled, the more I realized fear makes strangers of people who should be friends.

Shirley MacLaine
Happiness is not a state to arrive at, but a manner of traveling.

Margaret Lee Runbeck
There are no strangers here; Only friends you haven't yet met.

William Butler Yeats
Never go on trips with anyone you do not love.

Ernest Hemingway
When you're in jail, a good friend will be trying to bail you out. A best friend will be in the cell next to you saying, 'Damn, that was fun'.

Groucho Marx
Own only what you can always carry with you: known languages, known countries, known people. Let your memory be your travel bag.

Alexandr Solzhenitsyn
A Final Word
Whether you're taking a road trip to the next town or embarking on a more ambitious journey around the world, traveling with friends just makes everything better. The shared experiences and memories are something that can never be taken away, no matter how bad (or good) the trip may go.
Have any other travel with friends quotes you'd add to the list? Which is your favorite? Leave a comment below and let us know – we'd love to add it to our collection!
You might also enjoy these related quote collections: