We all need our own time, and these quotes about solitude reflect that.
Even the most social among us need time to ourselves, to reset and recharge.
But in a world that's constantly buzzing, where can you find peace and quiet?
If you're an explorer, these solitude quotes will help you find solace no matter where you are in the world.
So next time you're feeling overwhelmed by the crowds, take a few minutes to read one of these quotes and reflect.
Embrace the power of solitude. Let it nurture your spirit and guide you towards tranquility amidst life's clamor.
Here's to finding our quiet corners of bliss. Let's explore!
Quotes About Solitude
It is easy in the world to live after the world's opinion; it is easy in solitude to live after our own; but the great man is he who in the midst of the crowd keeps with perfect sweetness the independence of solitude.

Ralph Waldo Emerson
One can be instructed in society, one is inspired only in solitude.

Johann Wolfgang von Goethe
Be a loner. That gives you time to wonder, to search for the truth. Have holy curiosity. Make your life worth living.

Albert Einstein
Without great solitude, no serious work is possible.

Pablo Picasso
Loneliness is the poverty of self; solitude is the richness of self.

May Sarton
I never found the companion that was so companionable as solitude.

Henry David Thoreau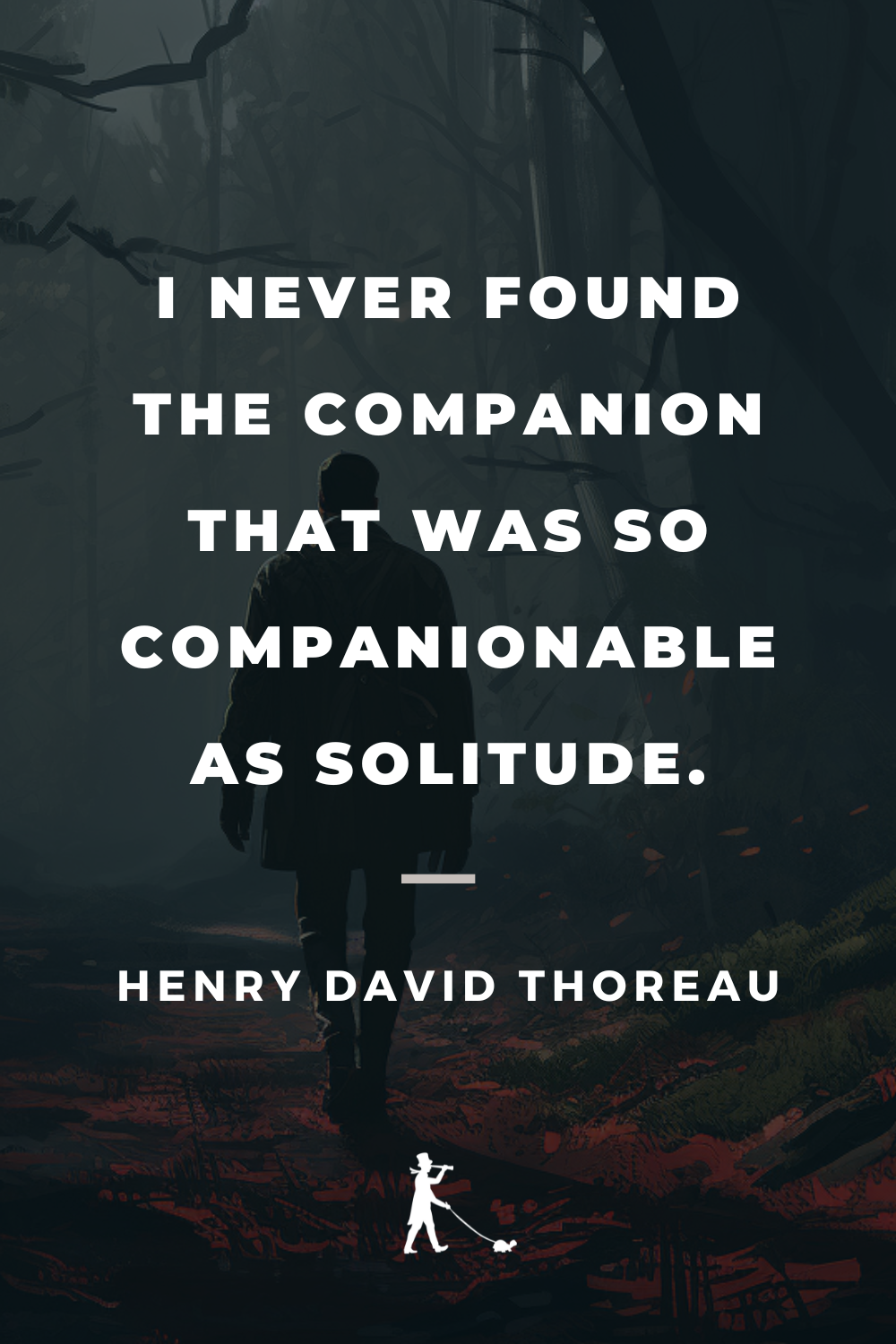 I myself am best when least in company.

William Shakespeare
Solitude is not the absence of company, but the moment when our soul is free to speak to us and help us decide what to do with our life.

Paulo Coelho
In the temple of his spirit, each man is alone.

Ayn Rand
Not being comfortable alone means you must spend more time alone.

Maxime Lagacé
The happiest of all lives is a busy solitude.

Voltaire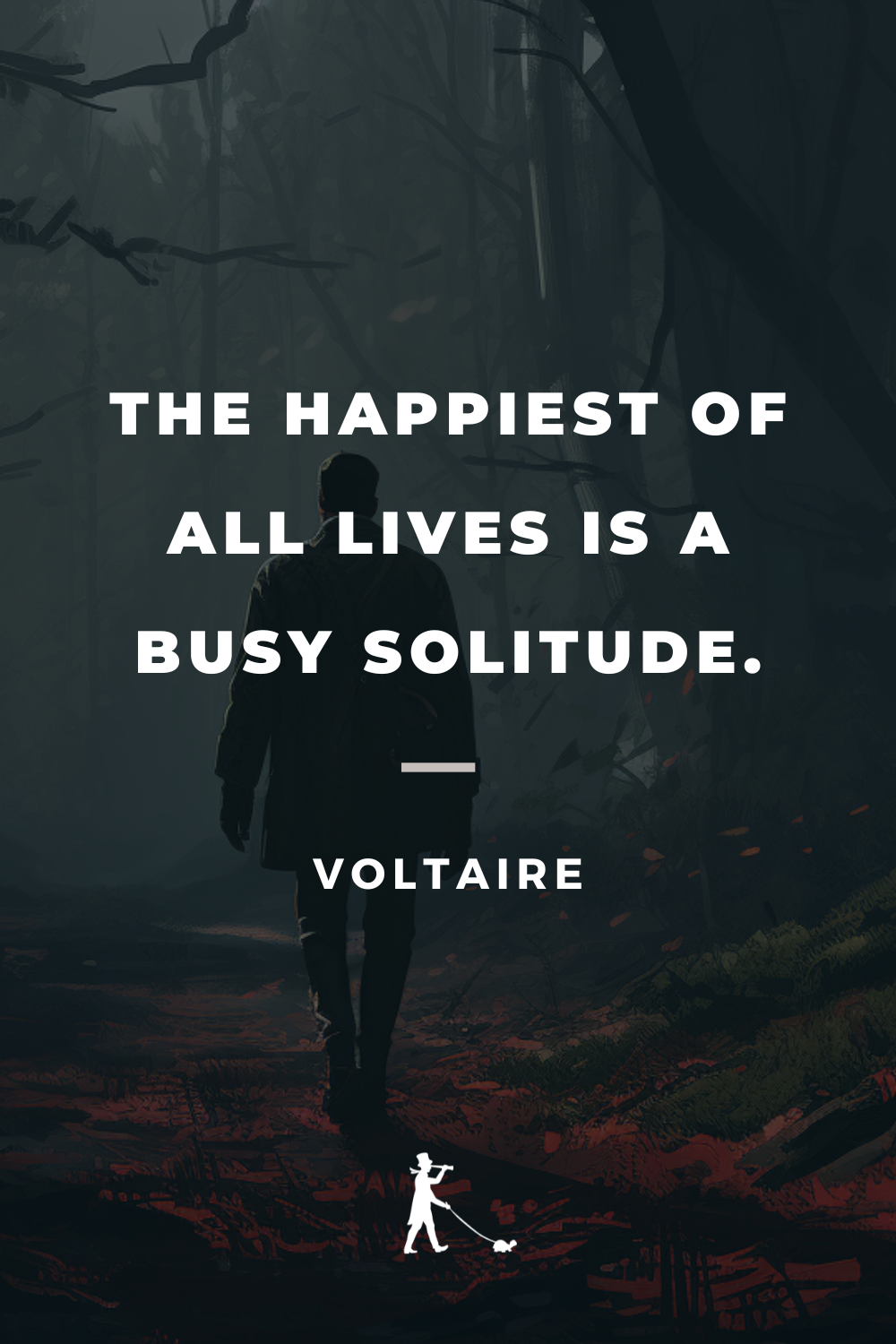 A table, a chair, a bowl of fruit and a violin; what else does a man need to be happy?

Albert Einstein
The more powerful and original a mind, the more it will incline towards the religion of solitude.

Aldous Huxley
Great men are like eagles, and build their nest on some lofty solitude.

Arthur Schopenhauer
The mind is sharper and keener in seclusion and uninterrupted solitude.

Nikola Tesla
The best thinking has been done in solitude.

Thomas A. Edison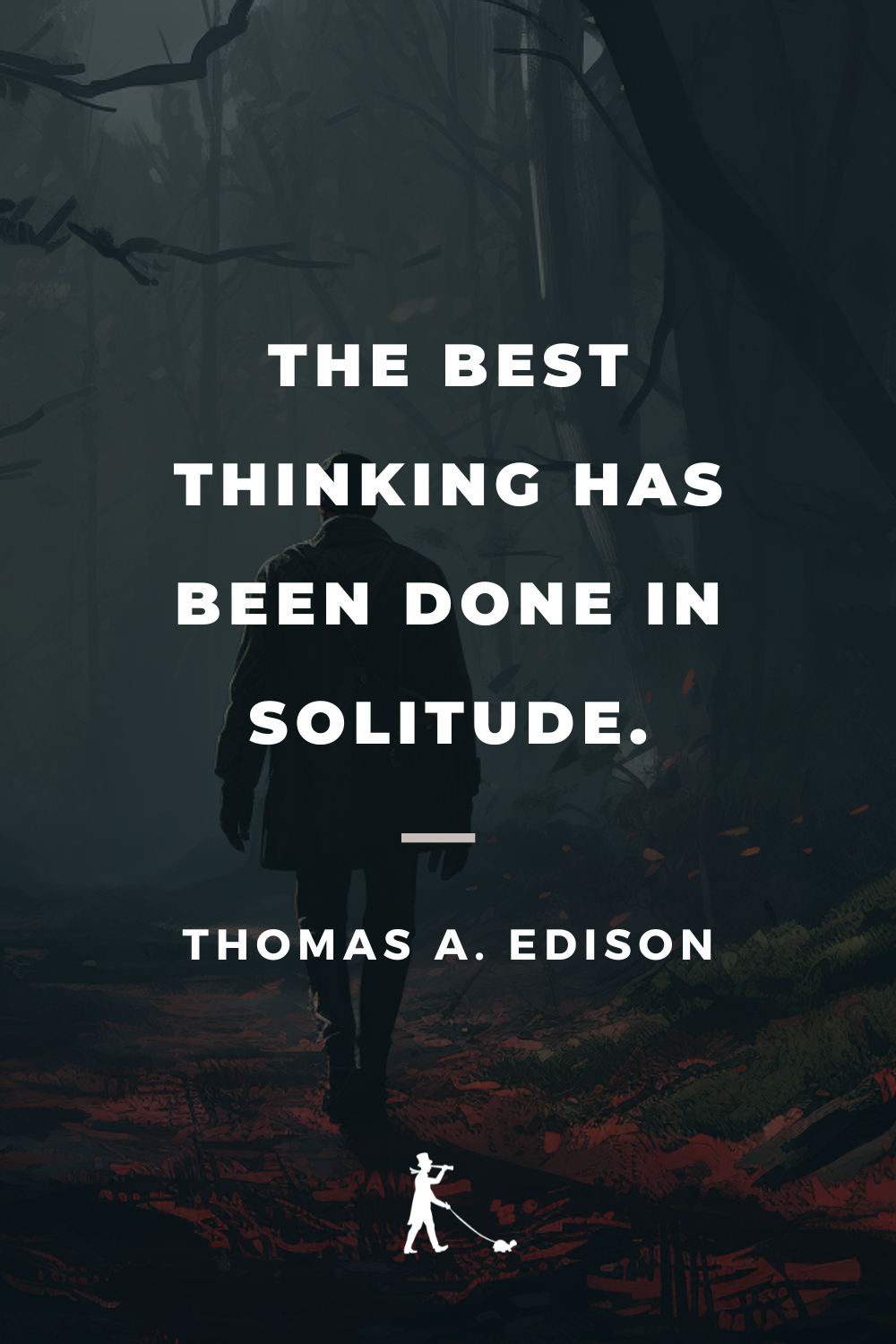 My solitude doesn't depend on the presence or absence of people; on the contrary, I hate who steals my solitude without, in exchange, offering me true company.

Friedrich Nietzsche
In proportion as a person simplifies his life, the laws of the universe will appear less complex, and solitude will not be solitude.

Henry David Thoreau
All of humanity's problems stem from man's inability to sit quietly in a room alone.

Blaise Pascal
A man can be himself only so long as he is alone, and if he does not love solitude, he will not love freedom, for it is only when he is alone that he is really free.

Arthur Schopenhauer
Solitary trees, if they grow at all, grow strong.

Winston Churchill
I've often been with someone and wished I was alone. I've never been alone and wished I was not.

Derek Sivers
Knowing yourself is the beginning of all wisdom.

Aristotle
By all means use sometimes to be alone. Salute thyself; see what thy soul doth wear.

George Herbert
You do not need to leave your room. Remain sitting at your table and listen. Do not even listen, simply wait, be quiet still and solitary. The world will freely offer itself to you to be unmasked, it has no choice, it will roll in ecstasy at your feet.

Franz Kakfa
Nowhere can man find a quieter or more untroubled retreat than in his own soul.

Marcus Aurelius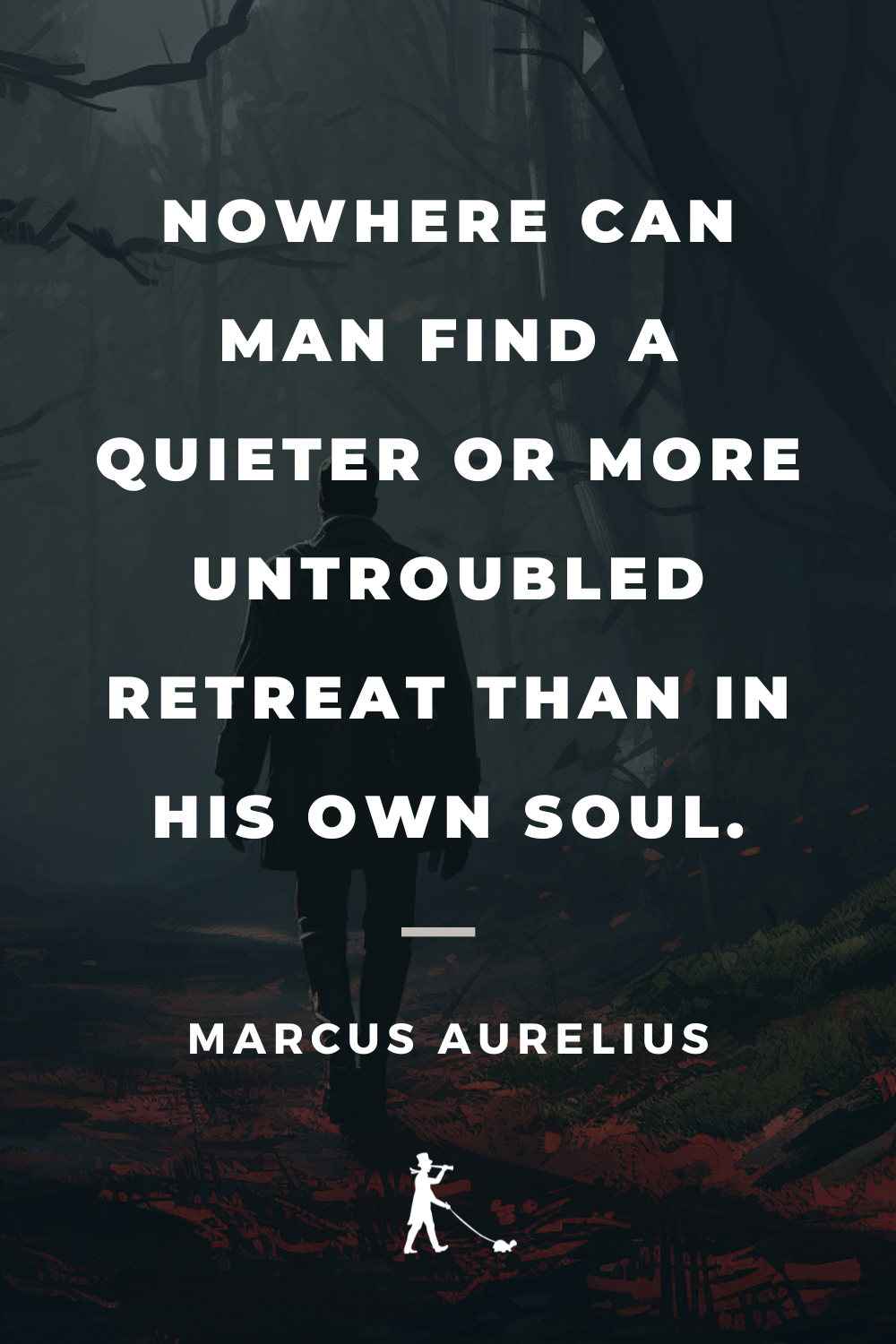 Contemplate and Create
Thought-Provoking Queries and Actionable Challenges
Contemplate
Paulo Coelho describes solitude as a moment where our soul is free to speak to us. Reflect on the moments you have truly embraced solitude. Can you recall the kind of conversations your soul had with you? What kind of decisions or realizations have you come to during such solitary moments?
Maxime Lagacé suggests spending more time alone if you are not comfortable being alone. Consider your relationship with solitude. Do you actively seek out time to be alone, or do you avoid it? How can you work towards being more comfortable and finding richness in solitude?
Create
Inspired by Franz Kafka's perspective on waiting in solitude, take out a quiet hour for yourself where you do nothing but sit and wait. Create a tranquil environment in a room, and sit quietly, perhaps with a notebook to jot down any thoughts that come to your mind. The goal here is to embrace the silence and see what the world offers you in these solitary moments.
Thoreau speaks to the simplification of life to find complexity fade in solitude. As an exercise, list down the things, habits, or even relationships that are complicating your life unnecessarily. Now, create a plan to simplify these aspects, one step at a time, embracing the solitude and the clarity it can bring to understand the core of what truly matters in life. This is your roadmap to a more focused and tranquil existence.
A Final Word
It can be tough to find peace and solace in a city that never stops moving, but with the right attitude and a few choice words from some of history's most brilliant minds, it is possible.
What's your favorite solitude quote? Have any other quotes about solitude you'd add to the list? Leave a comment below – we'd love to hear from you.
You might also like these related quote collections: