In a world where work no longer means being tied to a particular location, the appeal of the digital nomad lifestyle has never been greater. A new wave of adventurers, armed with laptops and a spirit of exploration, is embracing this freedom, turning the globe into their office.
Navigating this nomadic lifestyle, however, requires a wealth of knowledge—from visa logistics to finding the best Wi-Fi hotspots. That's where digital nomad podcasts come in. They've emerged as an invaluable resource, serving as a lifeline of advice, experiences, and guidance to digital nomads traversing the unconventional path.
So, whether you're a seasoned nomad seeking new insights or an office worker dreaming of swapping your cubicle for a hammock, join us as we delve into the best digital nomad podcasts designed to fuel your work and travel adventures. Welcome to the auditory compass guiding your journey through the ever-evolving landscape of digital nomadism.
The Power of Podcasts for Digital Nomads
The ubiquity of podcasts in today's digital age cannot be overstated. They're more than just audio files, they're a powerful tool that keeps us informed, entertained, and connected.
For digital nomads, podcasts carry unique benefits:
Portable Wisdom: Podcasts can be accessed anywhere, anytime. Whether you're waiting for a flight, working out, or just enjoying a sunset on a foreign beach, knowledge and inspiration are just a click away.
Tailor-made Content: Nomad-specific podcasts cater to the unique needs, interests, and challenges of the digital nomad lifestyle. They cover a broad range of topics, from destination guides and budgeting tips to interviews with successful digital nomads.
Community Connection: Podcasts create virtual communities, connecting digital nomads around the world. They're a platform for sharing experiences, advice, and support, helping you feel less isolated on your journey.
Continuous Learning: The digital nomad lifestyle is a constant learning experience. Podcasts offer invaluable insights and lessons from those who've been there, done that, helping you navigate your own path with more confidence.
Podcasts serve as an on-the-go library and community for digital nomads, providing the insights and camaraderie necessary to thrive in this unique lifestyle.
Top Digital Nomad Podcasts
Let's dive into some of the top podcasts that every digital nomad should have in their listening repertoire.
The Tropical MBA Podcast
The Tropical MBA Podcast serves as a vibrant crossroad of digital nomad lifestyle and entrepreneurship. This series delves into the nuts and bolts of managing businesses from any location worldwide. Offering an array of insights, the podcast provides thought-provoking interviews with successful nomadic entrepreneurs and discussions on the latest trends in nomadism. Regardless of whether you're just beginning your journey or you're a seasoned nomad entrepreneur, The Tropical MBA Podcast provides a wellspring of valuable knowledge to enhance your nomadic experiences.
Hosted by: Dan Andrews and Ian Schoen, two seasoned digital nomads who have successfully built location-independent businesses.
Why to listen: For real-world advice, actionable strategies, and inspiration from successful nomadic entrepreneurs shaping the digital nomad landscape.
The Offbeat Life
The Offbeat Life shines a spotlight on fearless individuals who broke free from conventional norms to live their best offbeat lives. It delves into the fascinating journey of these globetrotters and remote workers, offering listeners a wealth of information on overcoming obstacles, setting goals, and maintaining a healthy work-life balance while living off the beaten path.
Hosted by: Debbie Arcangeles, a seasoned nomad and digital entrepreneur, who herself has a wealth of experience leading an unconventional lifestyle.
Why to listen: For inspiring stories, practical advice, and life-changing ideas that empower you to live your best offbeat life while working remotely.
Pathway to Freedom: A 7-Day Flâneur Adventure
The Pathway to Freedom podcast is an engaging and transformative 7-day journey, guiding listeners towards personal and financial freedom. Inspired by the flâneur lifestyle, this audio journey employs mindful exploration and curiosity to help listeners design their own ideal lives. Each episode, or 'Waypoint', presents a unique mission that encourages personal development, mindfulness, and creative exploration. The podcast serves as a blueprint for designing a life characterized by intentional living, curiosity, and freedom. With practical tools and insightful perspectives, it redefines financial independence as an attainable reality rather than a distant dream, inviting listeners to take the first step on their personal Pathway to Freedom.
Hosted by: Blake Miner (yours truly), a digital entrepreneur and social scientist, who has been living the location-independent lifestyle since 2015 after first moving abroad in 2008 and never looking (or going) back.
Why to listen: To immerse yourself in a transformative journey that empowers you with the tools and mindset to shape a life of curiosity, intention, and financial freedom, one waypoint at a time.
Zero to Travel Podcast
Zero to Travel offers an abundant array of travel tips, inspiring stories, and practical advice for individuals looking to adopt the nomadic lifestyle. With an emphasis on empowering you to make your travel dreams a reality, the podcast covers a wide range of topics from how to finance your adventures to overcoming travel anxieties.
Hosted by: Jason Moore, a seasoned traveler with a passion for helping others embark on their own nomadic journeys.
Why to listen: For comprehensive travel advice, personal anecdotes, and inspiration that empowers you to realize your travel dreams, regardless of the constraints you may face.
Badass Digital Nomads
Badass Digital Nomads seeks to demystify the nomadic lifestyle, presenting an authentic and unvarnished look at the realities of living and working on the go. Through interviews with successful digital nomads across various industries, the podcast sheds light on a wide range of topics, from career development to cultural adaptation.
Hosted by: Kristin Wilson, a digital nomad with over 15 years of experience living in 60 countries, who brings a wealth of practical knowledge and insightful perspectives.
Why to listen: To gain a genuine understanding of the digital nomad lifestyle and to draw inspiration from the stories of successful digital nomads who have turned their travel dreams into reality.
The Location Indie Podcast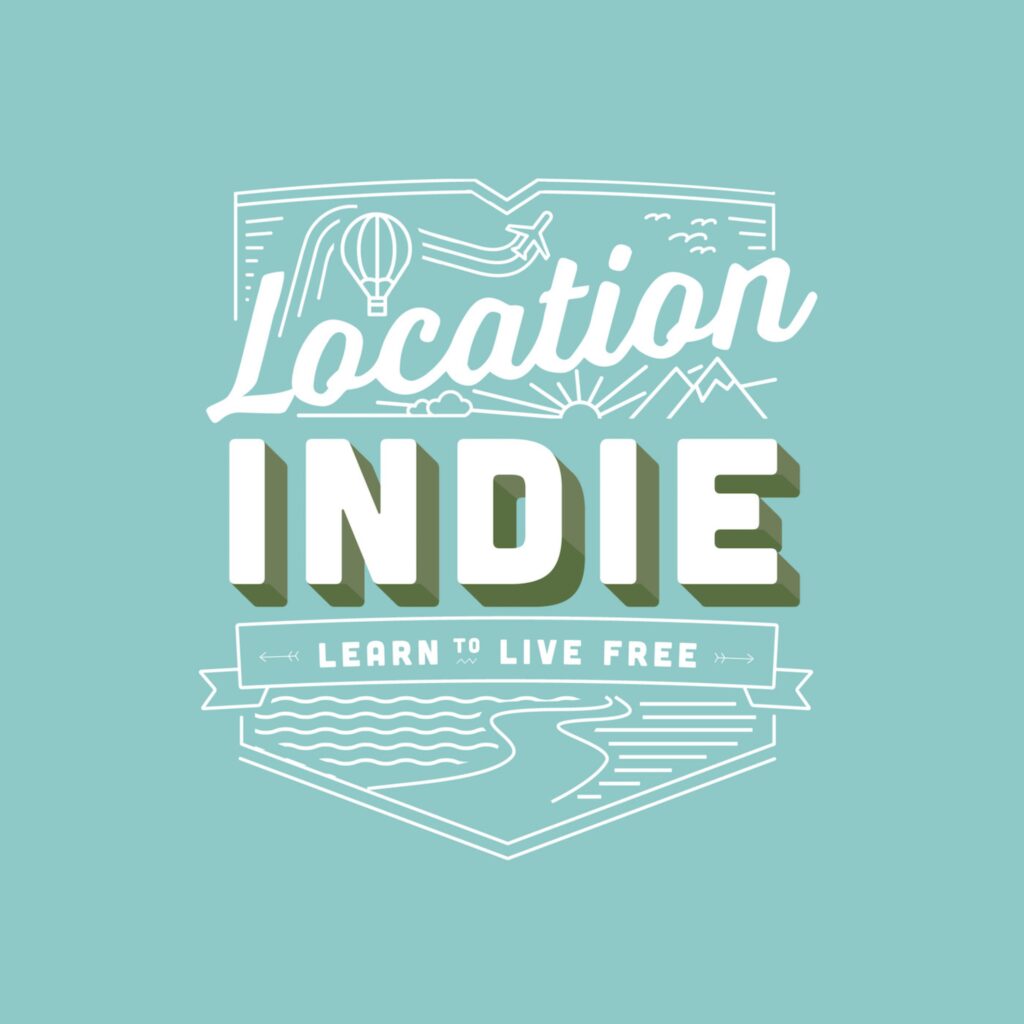 The Location Indie Podcast serves as a lifeline for those who dream of a life unbound by location. Covering a broad spectrum of topics, it provides practical insights and actionable tips on location independence, remote work, entrepreneurship, and personal development. The episodes delve into the personal experiences of those who have successfully transitioned into this lifestyle, offering inspiration and guidance to listeners.
Hosted by: Jason Moore and Travis Sherry, both renowned figures in the travel podcasting world with a wealth of experience in location-independent entrepreneurship.
Why to listen: For insightful guidance on blending entrepreneurship with the digital nomad lifestyle and practical tips on thriving while living and working on the move.
Nomadtopia Radio
Nomadtopia Radio provides listeners with a realistic glimpse of location-independent life. Featuring conversations that span the highs and lows of nomadic living, as well as practical tips on maintaining relationships and health on the go, this podcast is a rich tapestry of nomadic experiences.
Hosted by: Amy Scott, a veteran digital nomad who has been living and working remotely since 2004.
Why to listen: For genuine insights into the nomadic lifestyle, including personal anecdotes, triumphs, challenges, and valuable advice on sustaining a balanced life on the road.
That Remote Life
That Remote Life" takes listeners behind the scenes of the digital nomad lifestyle, unraveling the mysteries of remote work and long-term travel. This podcast opens up conversations around building online businesses, remote work culture, and the nuances of location independence, providing valuable insights for both aspiring and experienced digital nomads.
Hosted by: Mitko Karshovski, a digital nomad who successfully made the transition from the 9-5 grind to a life of travel and remote work, sharing practical tips and learnings from his journey.
Why to listen: To explore the reality of digital nomadism, with unfiltered conversations about the ups, downs, and intricacies of living and working remotely.
As Told By Nomads
As Told By Nomads centers on interviews with global nomads, Third Culture Kids, and entrepreneurs, providing insights into becoming a global leader in a multicultural world. This podcast serves as an exceptional resource for leveraging cultural experiences into professional success, offering listeners a global perspective on entrepreneurship and personal growth.
Hosted by: Tayo Rockson, a dedicated global nomad and influential advocate for multicultural understanding and leadership.
Why to listen: For unique insights into global leadership, multicultural understanding, and turning diverse cultural experiences into pathways for professional success.
Digital Nomad Podcasts for Aspiring Location Independent Startups
For the digital nomad yearning to chart their own entrepreneurial course, podcasts serve as invaluable, portable mentors. They offer a wealth of expertise and insights, weaving together narratives of success, lessons from failure, and hard-earned wisdom from seasoned veterans in the world of startups.
Through these auditory gems, digital nomad startups can tune into the pulse of the ever-evolving digital entrepreneurship landscape, deciphering its trends, unearthing opportunities, and learning to navigate its challenges. They're a vital resource in the nomadic entrepreneur's toolkit, capable of transforming a moment of rest into a moment of revelation.
Our top podcast recommendations for digital nomad startups are:
Each of these podcasts serves as a catalyst for growth, providing you with a diversity of perspectives and tools to shape and refine your own digital nomad startup journey.
How to Effectively Utilize Digital Nomad Podcasts
Podcasts are a treasure trove of inspiration, advice, and guidance, especially for digital nomads. But to truly gain their benefits, you need more than just hitting the play button. Here's how you can make the most of these audio gems:
1. Integrate Podcasts into Your Routine
Whether you're cooking, working out, or commuting, podcasts can fill those gaps with valuable insights. Consider allocating specific parts of your day to listen to podcasts – perhaps during your morning routine, or as a way to wind down in the evening.
2. Take Notes
Keep a digital or physical journal at hand to jot down interesting ideas, insights, or action steps that strike a chord with you. These can serve as personal reminders and help in implementing new strategies in your digital nomad journey.
3. Reflect on the Content
Don't just listen passively – engage actively with the content. Post-listening, take a few moments to reflect on what you've learned and how it can be applied to your own life. This can greatly enhance your understanding and retention.
4. Implement and Experiment
The value of any advice lies in its implementation. If a podcast episode provides a tip or strategy that resonates with you, try to incorporate it into your lifestyle. Remember, what works for one may not work for all – feel free to modify ideas to better suit your needs.
5. Join the Conversation
Many podcast hosts have accompanying online communities or social media platforms. Join these spaces to connect with like-minded individuals, share your insights, and engage in enriching discussions.
6. Revisit Episodes
There's no harm in replaying episodes that had a profound impact on you. Revisiting these episodes can solidify concepts and allow you to uncover new insights you may have missed in the first listen.
Remember, the goal is to transform these nuggets of wisdom into actionable steps that can elevate your nomadic journey. So, tune in, absorb, and grow.
Frequently Asked Questions About Digital Nomad Podcasts
What is the podcast about being a digital nomad?
"The Nomadtopia Radio" is a podcast about being a digital nomad. Hosted by Amy Scott, it features conversations with people living location-independent, nomadic lifestyles. It covers a wide range of topics including travel, work-life balance, and practical tips for living and working on the road.
What do digital nomads do for money?
Digital nomads earn money through remote work or freelancing in fields like technology, marketing, design, content creation, and teaching. They might also run online businesses or work in consulting. Passive income sources, such as rental income, investments, or affiliate marketing, can also be part of their income strategy.
Can anyone become a digital nomad?
Yes, theoretically anyone can become a digital nomad, provided they have a job or income source that can be managed remotely, access to reliable internet, and the ability to handle the logistics of sustained travel. However, it requires adaptability, discipline, and good planning skills, and may not be suitable for everyone's lifestyle or career.
Parting Words
We hope you'll find time to explore these digital nomad podcast recommendations and that they will inspire and aid your digital nomad journey.
We'd love to hear from you too!
Do you have a favorite digital nomad podcast that isn't on this list? Why do you love it? Do you have any experiences as a digital nomad that you'd like to share or questions you'd like to ask?
We invite you to enrich this community with your insights and experiences. Safe travels and happy listening!
You might also enjoy these related posts: